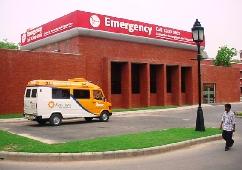 A landmark destination in Delhi -- Moolchand Hospital -- is now set to go places.

Moolchand Healthcare Pvt Ltd, the corporate entity formed by the group in 2006 with expansion in mind, is on an acquisition spree for hospital chains, IVF (in vitro fertilisation) clinics and pathological laboratories.

The company plans to spend Rs 500 crore (Rs 5 billion) over the next five years for expansion and acquisitions. It has also roped in private equity player Sequoia Capital to fund the expansion.

While the identity of the Delhi-based hospital, run by a charitable trust -- Moolchand Trust -- remains intact, the promoters are working to expand in other parts of the country through the corporate entity, while extending the reach of the 'Moolchand' brand that has been around for more than 80 years now.

"We have got private-equity funding and are looking for growth in newer assets through a for-profit company delinked from the trust," Moolchand chief executive Shravan Talwar told Business Standard.
The healthcare company is in advanced talks with many hospitals in the northern and eastern parts of India, where it may kickstart the first phase of expansion.
However, for new verticals like diagnostics, dialysis centres and fertility-assistance services, Talwar and his team is targeting smaller towns and cities.
"Discussions are underway across the country for acquiring IVF clinics and pathological labs," Talwar said.
The company plans to invest around Rs 200 crore (Rs 2 billion) on the buyout of IVF clinics, mainly spread across the national capital region and the second-tier cities, whereas it has earmarked Rs 50 crore (Rs 500 million) for the acquisition of labs with a strong hold in the market.
Talwar is talking of striking a couple of deals in each of these segments by the end of this year.
The expansion will be funded by a private-equity infusion of Rs 100 crore (Rs 1 billion) from Sequoia Capital, with the rest coming from internal accruals and debt.
According to a recent report of PricewaterhouseCoopers, the Indian healthcare industry currently is estimated to be around $65 billion (Rs 3.5 lakh crore), growing at a CAGR of 15 per cent.
Of this, diagnostics is the fastest-growing segment.
"Pre-1995, healthcare was mostly a social service, for public good. But post-1995, building scales has been critical in the sector," says Talwar, 42, who quit his job at McKinsey in the US to join the Moolchand management in 2004 -- around the time when the hospital, run by a charitable trust, was surrounded with various challenges including labour problems, customer service issues, as well as the rapid change taking place in the Indian healthcare space.
According to Deloitte Touche's senior director, strategy and operations, Charu Sehgal, healthcare is no longer seen as a public service but as an attractive business opportunity.
"Now the small-size hospitals run as trusts and public services are having to compete with modern hospitals.
"One option to grow and modernise is to create a separate entity that allows more flexibility with issues such as fund-raising, etc." Sehgal said.
Moolchand Healthcare is looking at hospitals with an average of 400 beds in cities like Rajasthan, Uttar Pradesh, Bihar, Madhya Pradesh and Chattisgarh.
Similarly, for fertility-assistance services, for which the market is estimated to be around Rs 1,700 crore (Rs 17 billion) currently, Moolchand is eyeing around 15-bed hospitals and regional chains.
For diagnostic centres, the company plans to broaden its geographic footprint with a smaller investment.
It is looking at acquiring pathological labs in cities like Mumbai, Rajasthan, Uttar Pradesh and Delhi.
However, Talwar says entering a bigger space, Moolchand hospitals and services would be cost-competitive: "We aim to be a corporate hospital plus product but a corporate hospital minus prices."
The company sees it as an opportunity due to the widen the gap between demand and supply in the healthcare system.
According to Rana Mehta, healthcare leader, PricewaterhouseCoopers, India has the lowest number of hospital beds per 10,000 people among the top-nine economies of the world, and this unmet demand offers a huge potential.