The forecast has an error margin of four days, which is considered normal.

Monsoon, which is expected to be normal this year, is likely to arrive in Kerala on June three, India Meteorological Department said today.
The RBI's hope of wholesale price index-based inflation to remain range-bound at 5.5 per cent this year is based on normal monsoon among other factors.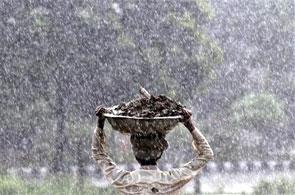 "The date of onset of southwest monsoon over Kerala is likely to be on 3rd June," India Meteorological Department said in a statement.
It said the forecast has an error margin of four days, which is considered normal. The monsoon hit Kerala four days against the forecast of June 1 by the weather office.
Earlier, the met department had predicted that rains during the monsoon would be normal this year.
The monsoon, which remains in India during four months of June to September, is vital for over 50 per cent of India's farm land as it does not have irrigation facilities.
A normal monsoon augurs well for the agricultural sector, as this segment employs the majority of the country's population. Agriculture is crucial also because it generates demand in rural areas for goods produced by industry and the services sector.
However, through the years, the importance of agriculture in the overall economy has declined substantially. An oft-cited period in this regard is 2009, which saw the most severe drought in 30 years; despite that, the economy grew 8.6 per cent in 2009-10. The agricultural and allied sectors grew 0.8 per cent that year.
Last year, though IMD had predicted a normal monsoon, rains turned out to be below-normal, though they saw a late revival. In 2012-13, agriculture and allied activities are estimated to have grown 1.8 per cent, while the overall economy is estimated to have grown at a ten-year low of 5 per cent. The government has projected the economy to grow about six per cent this financial year.
Normal monsoon is also important for cooling down of WPI inflation. RBI predicted inflation to be around 5.5 per cent this year and its projections are based on nonrmal monsoon, domestic demand-supply balance and the outlook for global commodity prices.
Inflation cooled down to 41-month low of 4.98 per cent in April. Within it food inflation eased to 6.08 per cent from 8.73 per cent in March.
Image: A labourer carries a container of mud while working on a roadside as it rains in Noida. | Photograph: Parivartan Sharma/Reuters