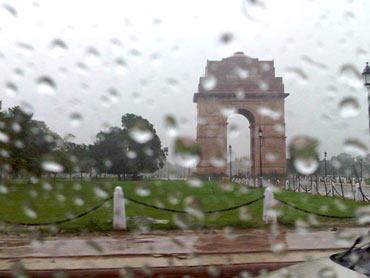 India's southwest monsoon, which accounts for almost 80 per cent of the country's total precipitation, is expected to be normal this year, predicts a joint study by the Associated Chambers of Commerce and Industry and private weather forecaster Skymet.
However, there would be pockets where the showers are expected to be deficient.
These include Himachal Pradesh, Punjab, Haryana, Uttarakhand, Marathwada, Rayalaseema, south interior Karnataka, north Tamil Nadu and parts of the northeast, says their study.
The rains are pegged around 103 per cent of the Long Period Average (LPA), which is the average rainfall in the past 50 years, around 89 cm.
Rain from 96 to 104 per cent of the LPA are considered normal.
Skymet would come out with its first official forecast for the 2015 southwest monsoon in April, as will the official India Meteorological Department.
"Chances of a back-to-back drought is three per cent (2014 had a mild meteorological drought," said Jatin Singh, chief executive officer, Skymet.
The bad news is that the current bout of unseasonal rain from late Februrary, causing wide damage to the standing rabi crop, is set to reappear ("a major rainfall spell") over north India in April.
IMD also said last week that another western disturbance was expected to appear over parts of north India in the last week of March or early April.
If so, it would further hit wheat, chana, mustard and vegetable farmers, already impacted by untimely rain twice since late February.
Prices of several major vegetables, particularly the green leafy ones, have moved up 25-30 per cent since mid-March.
Skymet said there had been a 30-40 per cent increase in prices of vegetables at Delhi's wholesale markets.
The central government on Friday acknowledged preliminary reports showing the standing crop in 2.7 million hectares had been damaged in the rain.
Union Agriculture Minister Radha Mohan Singh, with his two deputies, Sanjeev Balyan and Mohanbhai Kundaria, and a team of senior officials, are touring affected areas in Gujarat, Uttar Pradesh and Maharashtra.
Reports say 25-30 per cent of the mustard seed crop in Rajasthan and 10-15 per cent of wheat in western UP and Punjab has been damaged.
Hail in Nashik and other parts of Maharashtra have hit the onion, pomegranate and grape crops.