With GST, demonetisaton and the banking sector reset, investment banker Christopher Wood expects PM to focus on generating jobs ahead of the 2019 election.
Puneet Wadhwa reports.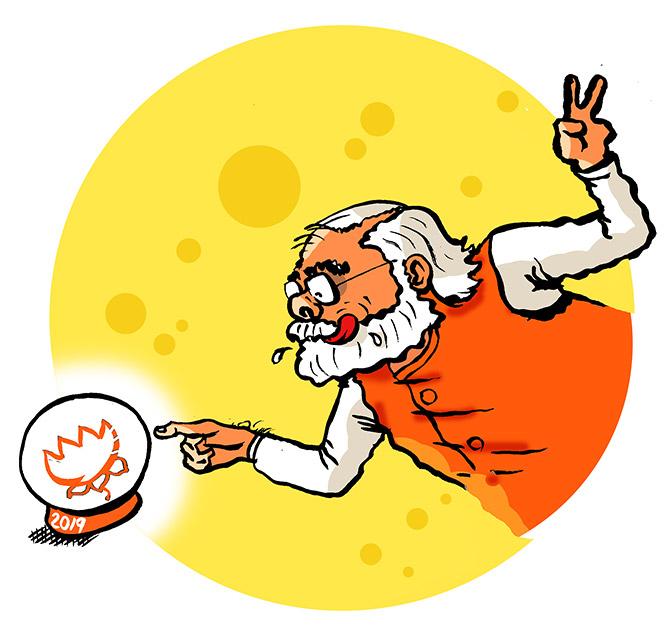 Illustration: Dominic Xavier/Rediff.com
The odds of the Narendra D Modi-led Bharatiya Janata Party winning the Gujarat election for the sixth consecutive time remain high, though it is likely that its majority will decline from the victory in the last poll held in 2012, says Christopher Wood, managing director and equity strategist at CLSA.
One strategic blunder, Wood says in his weekly note GREED & fear, which the Congress under Rahul Gandhi's still unconvincing leadership has made is that it is fighting the campaign on national issues, such as goods and services tax and demonetisation.
The strategy seems to be based on the calculation that both these policy reforms have caused problems for small businessmen and traders, the BJP's traditional supporters in Gujarat. Even then, Modi remains extremely popular in the state, Wood says.
'The Opposition would have been better advised to have campaigned on local issues where an incumbent chief minister who is not Modi would be vulnerable,' Wood notes.
'Instead by attacking Modi the Congress risks triggering a counter reaction since GREED & fear suspects Gujaratis are probably proud of the fact that their former chief minister is now prime minister,' Wood adds.
With key reforms such as GST, demonetisaton and banking sector reset via the Rs 2.11 lakh crore (Rs 1.35 trillion) capital infusion into public sector banks set in motion, Wood expects Modi to focus on generating jobs ahead of the 2019 general election.
This is one area where there has been a lack of progress, he feels; though the extent of the lack of employment generation is questionable given the inadequacy of employment data.
'There are three areas where Modi hopes to generate job growth in the next 18 months. The first, and by far the most important, is in the ramp up of affordable housing under Modi's Housing for All by 2022 policy,' Wood writes.
'The impact of this programme will not be immediate since GREED & fear hears it will take 12 to 18 months for property developers to draw up plans and commence construction in the affordable housing segment,' he adds.
'The other areas where jobs should be generated are road building and textiles,' Wood says.
That said, he does not expect a significant pick up in the affordable housing sector until late 2018.
Wood expects the Reserve Bank of India to cut rates aggressively in calendar year 2018.
'The current consensus view in India is that interest rates have bottomed,' Wood points out. 'Still with consumer price inflation running in the last 14 months at only an average of 3.2% year-on-year it must be questioned whether inflation will reach the RBI's forecast of 4.6% by next March.'
'If not, then the RBI will likely be forced to re-address its current neutral stance on monetary policy.'