Modi has made nuclear power a key element of his clean energy strategy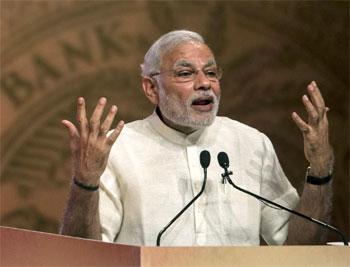 Prime Minister Narendra Modi aims to advance the purchase of massive nuclear reactors and fuel from France and Canada to power a resurgent economy, overriding domestic opposition and concerns over liability laws as he embarks on a foreign tour.
In France, where Modi is making his first visit since taking office last year, he will seek to speed up price negotiations for the building of two reactors by state-run Areva S.A. of 1,650 megawatts each in Maharashtra.
An official at state-run Nuclear Power Corporation of India Limited (NPCIL) said Modi's visit from April 9-11 was expected to add political heft to a project that under the last government became bogged down.
"Techno-commercial discussions have been going on for sometime now, there is desire on the part of the new government to conclude the discussions," the official, who declined to be named because he was not authorised to speak to the media, said.
Modi has made nuclear power a key element of his clean energy strategy, and in January announced a "breakthrough" pact with U.S. President Barack Obama to help clear a logjam of stalled projects.
India needs foreign nuclear technology and fuel to ramp up capacity by a planned 14 times from 4,560 megawatts over the next two decades.
For decades it was shut out of nuclear trade because of its weapons programme but a 2008 agreement with the United States gave it access to foreign suppliers without giving up arms that are primarily meant as a deterrent against nuclear-armed China.
NPCIL and the French supplier have been trying to hammer out a contract for the past five years, wrangling over the price as well as India's strict liability law for the plant in Jaitapur.
If completed in full, the Jaitapur project would be the world's largest nuclear power station and a lifeline for the loss-making French company. But one industry source with knowledge of the talks said there was still disagreement over the price Areva would be paid for the plant's power.
"The only thing I can confirm is that the teams are working," France's ambassador to New Delhi Francois Richier said. "It is a big project with six reactors. It is not something to be tied to a particular visit. It is really good if it happens during this visit. If not, it will happen later."
Modi's government is pushing for the reactors despite opposition from anti-nuclear groups as well as its own regional ally in the state, the Shiv Sena, who says it is not safe.
Modi's administration has also proposed the setting up of an insurance pool with a liability cap of 15 billion Indian rupees ($240.91 million) to indemnify international and domestic nuclear suppliers in case of an accident.
"The establishment of the insurance pool has addressed the main concern of the suppliers," said S.K. Jain, former chairman of the NPCIL who negotiated the initial agreement with Areva. "The main stumbling block of global suppliers was unlimited and indefinite liability."
Fuel from Canada
After France, Modi visits Germany then Canada on April 17. There he hopes to close in on a deal to secure uranium imports after a 2013 agreement ended a 39-year embargo on nuclear trade with India following its first nuclear test.
Canada's Cameco Corp, one of the world's biggest uranium producers, has been holding talks with Indian government officials for a long term supply arrangement.
One senior Indian government official said that during the visit "there may be a deal" for the supply of uranium fuel.
"We look forward to resuming our civil nuclear energy cooperation with Canada, especially for sourcing uranium fuel for our nuclear power plants," Modi posted on Facebook.
Additional reporting by Frank Jack Daniel