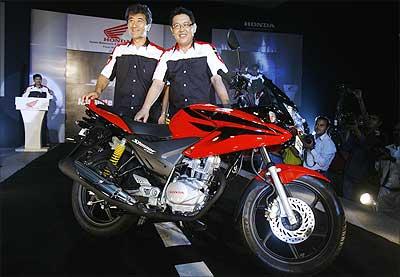 Aiming to sell 10 lakh units in the current fiscal, Honda Motorcycle & Scooter India on Monday launched its new 125 cc sports bike in the country priced between Rs 47,070 and Rs 51,655 (Ex-Showroom, Delhi).
"We plan to achieve a sale of one million units in the current fiscal and the launch of this new bike will help us in materialising this target," HMSI Pvt Ltd Divisional Head (Sales and Marketing) N K Rattan told reporters in New Delhi.
"We plan to sell 80,000 units of the new bike, CBF Stunner, in this fiscal," he added.
The company had recorded sales of 9.07 lakh units in the previous fiscal.
In the current fiscal year, the firm targets to sell three lakh motorcycles and seven lakh scooters, he added.
HMSI had earlier announced to set up a new manufacturing facility, but it has now decided to go slow on this front.
"Currently, our production capacity is of 1.2 million units, but it can be stretched up to 1.35 million units. So we can avail of this facility for the next 2-3 years. As of now, we do not have any plans to set up a new facility," he said.
Besides the new bike, the company plans to launch two new models this year.
"There will be one or two more new launches in this financial year. We also expect our bikes above the 800 cc category to launch in FY'09, which will be priced above Rs 10 lakh (Rs 1 million)," Rattan said.
The company would import these high performance bikes as a completely built unit, he added.


The company also plans to introduce a 100 cc bike by the end of 2010, Rattan said.
HMSI has a current market share of 11 per cent and is expecting to raise the figure to 15 per cent by 2010.
Asked if the company has plans to phase out its scooter Eterno, Rattan said, "Though the sale of Eterno has come down, we do not have any plan to stop the production, rather we will revamp its sale with new strategies".
Commenting on whether the interest rate hike had affected the growth of the company, Rattan said, "It had affected the entire industry last year, but the case was not the same with HMSI, as we have good quality customers. Finance companies are very happy to finance our customers."
CBF Stunner would come in three variants and four colours. The bike, which would be launched across the country on July 21, would come with a 11 bhp engine.

Text: PTI

Image: Operating Officer General Manager, Planning Division Honda Motorcycle R&D Centre Japan Kenji Kawaguchi (left) and President & Chief Executive Officer Honda Motocycle & Scooter India Shinji Aoyama pose with Honda's new CBF Stunner motorcycle during its launch in New Delhi on June 30, 2008. 

Photograph: Manpreet Romana/AFP/Getty Images