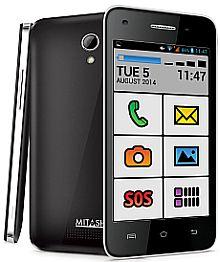 Mitashi has launched its first smartphone for senior citizens, called the Mitashi Play Senior Friend, at Rs 4,999.
Mitashi Play Senior Friend is an android-based smartphone packed with convenient features such like a large font dialler; large font for storing contacts and reading messages; SOS button for emergencies, and colour coded icons, said the company in a press statement.
Adnan Chara, vice president - gaming, toys and telecom – Mitashi Edutainment Pvt. Ltd said, "A detailed market research done by us suggested that the senior generation, while being largely technophobic is also looking at their grand children engaging actively on android platform and are definitely keen to get into the bandwagon – all they need is a little push!"
He further said that research done by the company also indicated that current generation smartphone users were guilt conscious while using a high priced smartphone for themselves because their parents and grandparents at home were still active on a low priced feature or bar phone.
Hence, Mitashi thought of addressing the need of a smartphone exclusively keeping their needs in mind.
Infact, India has 5 per cent of its population over the age of 65 and this in itself presents a big potential market, added Chara.