The health and family welfare ministry spent 70 per cent of its allocation till October.
The ministry may need additional funds for the vaccination drive which is expected to be kicked off from January.
Shrimi Choudhary reports.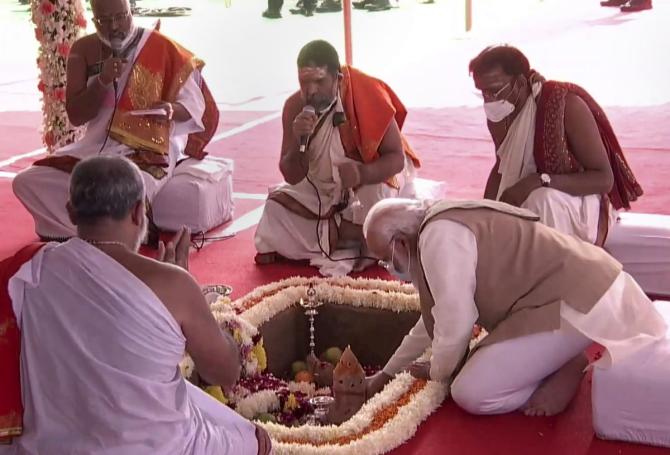 Scrapping the Winter session of Parliament has left central ministries and departments in the lurch, in terms of additional cash and getting savings from other departments to meet their immediate expenses.
This is because there is no supplementary demand for grants before the Budget session, which usually starts in late January. The supplementary demand is generally placed in February.
"This will have an impact on existing central schemes and even on new ones which are planned or in the pipeline," said two officials in the government.
Since supplementary demand for grants is subject to Parliament approval, any mobilisation of additional resources, even within departments, requires its nod, said one of the officials.
Typically, an estimate of supplementary demand for grants is presented during Parliament sessions, when the budgetary allocation to meet the required expenditures falls short.
It is granted in case there is a need for additional expenses for an existing scheme or due to some new services which were not contemplated in the Budget for that year.
The issue will impact at least two ministries -- food and consumer affairs and rural development -- as both of them have already exhausted their budgetary allocations.
According to the expenditure figures by the Controller General of Accounts, both ministries have expended over 100 per cent of their budgetary allocations during April-October and may require additional resources.
Another important ministry -- health and family welfare -- has spent 70 per cent of its allocation till October.
With approvals for vaccines under way, the ministry may need additional funds for the vaccination drive, which is expected to be kicked off from January.
However, there are 44 ministries, which have spent less than their allocations. They include the ministries of finance, home affairs and defence.
Sources attributed the less spending to the imposition of quarter-wise expenditure cap and the directives by the finance ministry during the lockdown. The finance ministry had asked all ministries and departments to use resources prudently during the lockdown phase.
According to expenditure rules, central ministries and departments must not spend more than 25 per cent of their budgetary allocation in the fourth quarter and the cap is 10 per cent for March.
In case of extra expenditure agreed in the revised estimates, such expenses can be incurred only after Parliament nod.
Large expenditures will be governed by the expenditure control guidelines of August 2017. They mandate prior permission of the Budget division for any single payment of over Rs 5,000 crore (Rs 50 billion). This was to deal with temporary mismatches in cash outflows and inflows.
Experts say such hiccups in the provisions could be sorted in case of emergency situations. "There is a contingency fund, which could be regularised to meet the excess or unforeseen expenditure. In such circumstances, the contingency fund will be placed at the disposal of the President. This is to enable advances to be given out of such funds to meet the purposes," says Constitutional expert Subhash Kashyap.
Sources in the government, however, said that this year only one batch of additional grants got approved, and the next would be in February. By the time grants come, most of the fourth quarter would be over.
The cases, which would be eligible to be incorporated under such supplementary demands include those where advances from the contingency fund have been granted.
Besides, payments against court decree would be included in cases where the finance ministry has specifically advised moving supplementary demand in the Winter Session.
In this fiscal year, the first batch of additional grants was presented in the Monsoon session in September. This includes 54 grants and one appropriation.
Parliament had approved extra spending of Rs 2.35 trillion, which included cash outgo of Rs 1.66 trillion, primarily to combat the pandemic.