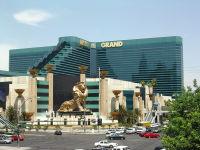 Las Vegas-based hotel-casino MGM Grand has firmed up plans to check into the hospitality district near the international airport in Delhi.
This will be MGM's first destination in India, and it expects to be ready by early 2014. There won't be any casino here, though.
MGM Grand, with its characteristic lion at the entrance, is one of the prominent structures on The Strip, referred to a long stretch in Vegas lined with hotels and casinos on both sides.
The MGM Grand and Skylofts in New Delhi will be part of a dynamic multiple-hotel development in the national capital, MGM (hospitality) vice-president of development-India Rishi Kapoor told
Business Standard
.
"Groundbreaking on the project is scheduled for this month and MGM Grand New Delhi is expected to welcome its first guests in early 2014," he said.
Replying to a questionnaire sent by this newspaper, a spokesperson of DIAL (Delhi International Airport Ltd) said it had leased land to developers and it was the developers' responsibility to tie-up with hotel operators.
"It is our understanding that one of the developers has tied up with MGM ," the DIAL spokesperson said. DIAL is a consortium led by the GMR Group.
The MGM Grand will offer a variety of accommodations and the full-range of luxury services, according to Kapoor.
"The new hotel will feature approximately 480 MGM Grand guest rooms, along with a number of exclusive Skylofts brand suites and serviced apartments," he said.
Located in The Strip area of Las Vegas, Skylofts is a luxury boutique hotel on the top of MGM Grand. The group describes it as a "private sanctuary tucked within the clouds".
MGM Hospitality has tied up with Silver Resort Hotel India Private Limited (a company promoted by Blue Coast Hotels Limited) for the Delhi project. MGM Hospitality will provide design assistance and operate the hotel under the brand of MGM Grand.
On the future plans of the group, Kapoor said: "The hospitality market in India was one of the most dynamic in
the world," and that MGM Hospitality was "engaged in advanced negotiations and discussions for numerous other projects in key locations in the country, including Mumbai, the NCR, Bangalore, Hyderabad, Goa and Jaipur".
It is learnt that MGM Grand was planning a premium hotel with Reliance Industries Ltd and Maker Group in BKC Mumbai. RIL has a big plot in BKC for a hotel and convention centre project.
According to the DIAL spokesperson, the hospitality district near the Delhi airport would be part of an area of 45 acres.
"The entire 45 acres has been leased out, which is for an initial period of 27 years, and can be extended in line with the terms and conditions provided in the concession agreement," he said.
The other hotels that are expected to come up at the district include JW Mariott, Hyatt Andaz and Hyatt Place, Dusit D2, Pride Hotel , Pullman, Red Fox, Lemon Tree, Ibis, Holiday Inn and Novotel. Most of these will open their doors by 2012 and are expected to create over 3,100 rooms across different pricing and categories.
"According to the agreement with the developers, the developers' hotels will have to be ready by 2015," the DIAL spokesperson said.
Currently, as many as 26 million passengers fly in and out of Delhi annually, which is about 70,000 a day. A new terminal (T3) has been built for accommodating 34 million passengers annually and there are plans to expand it to cater to 100 million customers in a year.
Industry experts said there may be some supply-side pressure in the short term of one to three years, but in the long run these rooms, coming up at the hospitality district, will get absorbed.
"It is a very good location in between Gurgaon and Delhi and there is a lot of demand, which hasn't been met," said Sushil Gupta, chairman and managing director of Asian Hotels–West.
The company is developing the JW Marriott property, with a capacity of a little over 500 rooms.