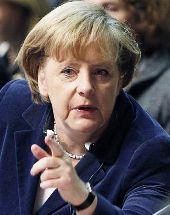 German Chancellor Angela Merkel is heading for a confrontation with her other European counterparts at a crucial EU summit as she dashed hopes for an agreement to share debt liability among the euro zone nations by introducing common government bonds.

On the eve of the two-day summit in Brussels, Merkel renewed her rejection of euro bonds as 'wrong and counterproductive.'

"Guarantees and controls must go hand in hand," she said in a policy statement before the Bundestag, the lower house of Parliament.

There can be joint liabilities only when sufficient controls have been put in place, she said.

Moreover, sharing of debt liability, debt redemption schemes or similar proposals will be in violation of the German constitution, she said before heading for Paris for talks with President Francois Hollande.

France, Italy and Spain have been pressing for steps towards sharing debt liability, debt redemption and issuing joint euro bonds as part of the efforts to tackle a worsening debt crisis, which has so far forced five euro zone nations to ask for bailouts.

Supporters of debt sharing plan argue that it will help some of the heavily indebted nations to raise funds from the capital markets at much lower costs.

Spain's borrowing costs for 10-year bonds have been steadily rising in recent weeks and reached 6.8 per cent in spite of a 100 billion euro financial rescue fund offered by euro zone two weeks ago to prop up the country's ailing banks.

Four top EU officials on Tuesday unveiled a 10-year plan for far-reaching reforms of the economic and monetary union to strengthen the euro zone and to prevent future debt crisis.

The proposals by European Commission President Jose Manuel Barroso, European Council President Herman Van Rompuy, President of the European Central Bank Mario Draghi and President of the euro group Jean-Claude Juncker included euro zone 'borrowing money collectively' and creation of a European finance ministry, which will have control over national budgets.

Merkel said she is expecting a 'controversial discussion' with fellow heads of state and government on euro bonds and other contentious issues at the summit.

She warned her EU partners not to overestimate Germany's strength as the the euro zone's largest economy and the main contributor to the bailout of debt-laden nations.

Attempts to force the introduction of euro bonds by exerting political pressure after the financial markets could not succeed 'will be a repetition of an old mistake,' she said.

There is no 'magic solution' to the two-year-old euro zone debt crisis and it must be tackled by correcting the mistakes committed when the European economic and monetary union was created two decades ago, Merkel said.

The EU leaders are expected to endorse a 130-billion-euro (163 billion dollars) growth package for the euro zone unveiled by Hollande, Merkel, Italian Prime Minister Mario Monti and Spanish Prime Minister Mariano Rajoy in Paris last week.

The proposed growth package is expected to please Hollande, who had during his election campaign pressed for a EU growth pact parallel to the fiscal pact on budgetary discipline championed by chancellor Merkel.

The German parliament is set to ratify the fiscal pact on Friday.
Image: Angela Merkel