Israel Makov, the 75-year-old chairman of Sun Pharmaceutical, pushed through the deal to acquire Ranbaxy at a six-hour board meeting on Sunday.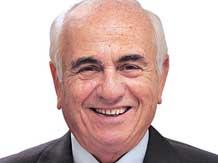 Makov's contribution was not limited to Sunday's meeting. He played a key role in getting Daiichi to the negotiating table and ensuring the Japanese giant remained there till the deal was signed.
Makov, former president and CEO of Israeli giant Teva Pharmaceutical, was brought in as chairman of Sun Pharma in 2012 after Dilip Shanghvi re-designated himself as MD.
The move paid off as Makov, a respected name in the international pharmaceuticals industry, used his considerable contacts to help seal the Ranbaxy deal. Jews dominate the investment banking community in Japan

Sources said Daiichi wanted to give up operational control of Ranbaxy because of heat from shareholders over every new negative development in the Indian company.
Its share price took a few hard knocks since Ranbaxy's problems started with the US Food and Drug Administration.
At the same time, it did not want to let go of its presence, however indirect, in India.

That is when Makov's contacts came good. The Sun Pharma brass got to know about Daiichi's dilemma and offered an all-stock deal, in which the Japanese firm would hold a substantial chunk of shares and could benefit if the Ranbaxy stock turned around.
The offer was tempting because Ranbaxy was too busy fighting fires in the US to concentrate on operations.

The second hurdle was to convince Daiichi that Sun Pharma was the company that would turn Ranbaxy around.
Makov personally led a team to Daiichi to present Sun Pharma's credentials. He listed the firm's record of turning around nearly two dozen companies, the latest being Taro Pharmaceutical.

Still, the deal was looking difficult. It was Sun Pharma's turn to get cautious. Ranbaxy recently received a subpoena from the US Attorney for the District of New Jersey, asking it to produce documents relating to issues previously raised by the FDA about its Toansa facility.
The financial implications of this were uncertain.

The issue was sorted out after Daiichi agreed to indemnify Sun Pharma and Ranbaxy for, among other things, expenses that might arise from the subpoena. This immunity, it was felt, would sell the deal to Ranbaxy's minority shareholders.