She would be the first Indian to be occupying the coveted post at IMF after former RBI governor Raghuram Rajan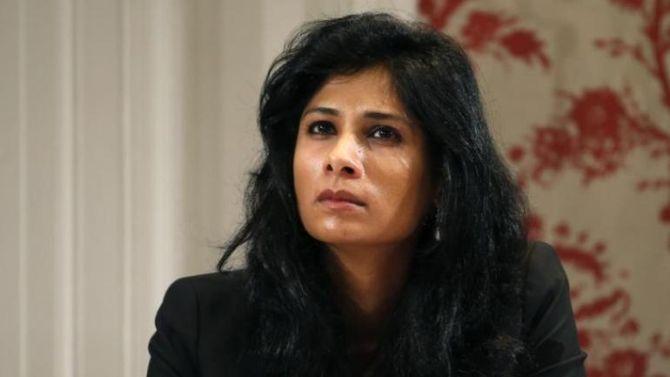 Alongside guiding Kerala Chief Minister Pinarayi Vijayan on economic policies, Gita Gopinath, or GG as she is popularly called, has another role to play by the end of this year - to advise the International Monetary Fund (IMF) on policy issues.
She was named IMF chief economist by its managing director Christine Lagarde on Monday.
Gopinath, who will succeed Maurice (Maury) Obstfeld, has been a bitter critic of demonetisation, but not of the other big decision of the Narendra Modi government - the goods and services tax (GST).
She had questioned the note ban, saying the move should not have been taken for a country such as India in this stage of development.
To oft-cited argument that the cash circulation in the economy was rising and demonetisation would arrest that trend, she says, "Japan has the highest cash per capita, way more than India.
"The cash in circulation, relative to the gross domestic product (GDP) for India, was 10 per cent, whereas in Japan it is 60 per cent. That is not black money; that is not corruption."
She, however, has a different opinion on GST.
"I view the GST very favourably because that is a real reform. It is a way of formalising the economy. It is a very effective way of ensuring tax compliance and makes it harder to earn black money," she says.
Gopinath is the co-editor of the American Economic Review and co-director of the International Finance and Macroeconomics Programme at the National Bureau of Economic Research (NBER), a US non-profit organisation.
She will take the IMF post at a time when the world is witnessing an increasing trend of protectionism and trade war, a trend she abhors.
She says trade war would be disruptive not only for trade but whole lot of other economic variables and institutions such as interest rates, inflation, and central banks.
She would be the first Indian to be occupying the coveted post at IMF after former RBI governor Raghuram Rajan.
A John Zwaanstra Professor of International Studies and Economics at Harvard University, Gopinath had expressed her disbelief when Rajan did not seek the second term for the post of RBI governor.
However, she was quite objective when she assessed Rajan's role as the governor when he completed his second year at Mint Road.
"Nobody is perfect, but he would be pretty close to as good as it gets," is how she described him.
Along with her teaching assignments, she is also advisor to Vijayan. She recently advised the state government to be far more prudent on the expenditure front.
When she was appointed by the Kerala government, she was charged with being neo-liberal by hardliners.
To this, Gopinath had said she considers herself a trained technocrat and an economist, who rejects all ideological labels.
At a time when the rupee is struggling to regain its value against dollar, Gopinath has her piece of advise - "Usually, policymakers might pay attention to what they call a trade weighted exchange rate.
"And what my research says is that you want to pay attention to the exchange rate relative to the dollar, doesn't matter who you trade with or how the exchange rate moves one way or the other."
Photograph: Reuters