With an aim of wooing young customers in India, fast food chain McDonald's is getting into the digital domain by launching applications for mobile phones and computers which will enable visitors at its outlets witness illusion of menu on offer.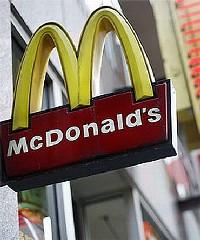 "We are launching this revolutionary concept of 'augmented reality' at all (of) our 110 McDonald's outlets in North and East India," McDonald's India ( North and East) GM Marketing Rajdeep Chatterjee said.

Customers who enter McDonald's stores would be able to download applications on their Android and iPhones, and can witness illusions being created in the air and around them of images of different products.

He said the company has kicked off
the campaign with its new product McFlurry. "With the new marketing initiative, we are targeting the youth of the country, who are very active on digital platforms such as handheld devices and computers," Chatterjee said.
Asked how much the company would be spending on promotions, he said: "We spend around six per cent of our annual turnover on marketing and advertising."
On the expected sales during this festive season, he said: "We expect a double digit increase in our sales compared to last year."
He, however, did not disclose the numbers for last year. Commenting on the expansion plans, Chatterjee said the company is planning to open 105 new outlets in the next three years.
"Within this fiscal, the plan is to open 25 new stores," he said but did not provide investment details.