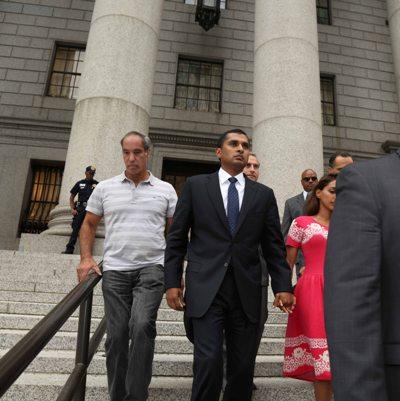 Mathew Martoma, accused of insider trading that earned his employer SAC Capital $275 million -- and himself a $9.38 million bonus -- has been sentenced to a nine years in a Florida prison.

He was sentenced to nine years in prison on charges of conspiracy, and five years for two securities frauds.

The sentences run concurrently.

US District Judge Paul Gardephe said that he had considered 140 letters that described Martoma's compassion, his devotion to his family, and the fact that he had no criminal record, but decided that there was a darker side to Martoma's character -- as seen in the fact that he had forged a Harvard transcript, and later hidden his expulsion from that institution when he applied to Stanford, and where he went on to earn an MBA.

He also rejected the request by defense attorney Richard Strassberg, that Martoma, 40, had already been financially ruined and sufficiently humiliated and that more punishment was unnecessary.

He also said that the huge profit thus illegally made, and which the prosecution described as the largest case of insider trading ever, could not be ignored as the defense suggested.
He said that it pitted low risk against huge gain, and thus could encourage more illegal activity.

While Gardephe would not go with the 188 months to 235 months of incarceration sought under federal guidelines, he did go beyond the eight-year minimum suggested by the prosecution.

Martoma was convicted for getting two doctors from the pharmaceutical firms of Elan and Wyeth and who were members of a team studying a potential Alzheimer's drug to violate their confidentiality agreements and tell him the drug was not viable.

This helped Martoma to get SAC Capital to unload its shares before the public announcement of the results that would hit the prices of both Elan and Wyeth.

The authorities went after Martoma, hoping he would make a deal with them and implicate his then boss Steven Cohen.

Martoma made no deal. Cohen closed SAC Capital and now runs Point72 Asset Management.

Martoma is to surrender himself to the designated authority -- or the US Marshals -- November 12, 2 pm.
Image: Mathew Martoma (second from left) outside the court in New York; Photograph: Paresh Gandhi/Rediff.com