He may make a comeback as co-chairman at India's second largest software exporter.
Illustration: Dominic Xavier/Rediff.com.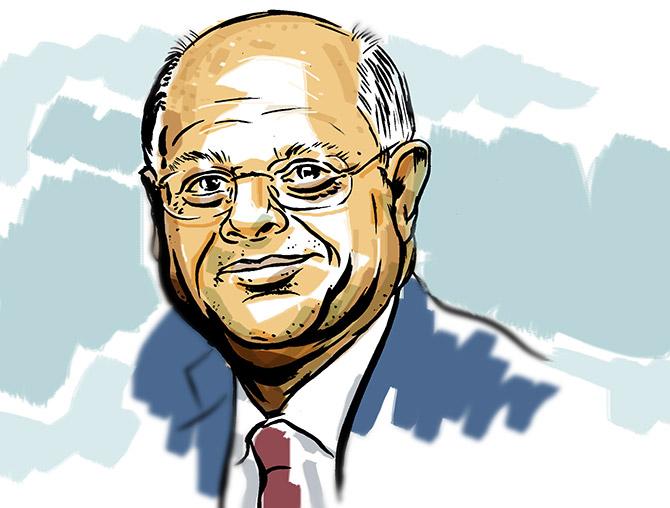 Marti G Subrahmanyam, a professor of finance, economics and international business at New York University's Stern School of Business, who helped Infosys acquire a view of its main market United States, may make a comeback as co-chairman at India's second largest software exporter.
Infosys founder N R Narayana Murthy hinted as much when he found fault with the current board for its governance lapse.
It has been a long friendship for Murthy and Subrahmanyam, whose motto of globalise or perish helped the fledgling Infosys to the world of good corporate governance practised by global companies.
In 1998, when Subrahmanyam joined the Infosys board, India's software exports were less than $2 billion. It was the time when India's IT industry was capitalising on the Y2K boom, by being body shoppers when the US needed thousands of engineers to fix a bug in computer systems across industries.
In the US, programmers, who built the initial computing systems for banks, airlines and enterprises, had till then to save computing space written only for the last two digits to denote the year instead of four digits. With the year 2000, there was a threat of dates changing to zeroes, which could have crippled computer systems across the US.
Infosys and other Indian firms capitalised on this opportunity, initially sending engineers to the US to work and then built a model of delivering work offshore from India at a fraction of the cost done in developed markets.
"A company like Infosys started with a clean slate with no baggage. They wrote their own rules. They also wrote the rules in a very straight manner without making any compromises for problems in the Indian context. They had an advantage," Subrahmanyam told Rediff.com in an interview in 2001.
"IT was an industry nobody was keeping track of, nobody noticed. No excise inspector or income tax officer was visiting them. So they were able to do things quietly. Until suddenly everyone woke up and said, look Infosys is here, the IT revolution is here."
In 2011, when he stepped down as independent director at the age of 65, Murthy had retired as also Nandan Nilekani, who took up the Aadhaar project. The IT revolution was already under way, with the sector generating significant foreign exchange for the country and contributing to nearly five per cent of India's GDP.
"During this period, the company's revenues, profits and employee strength grew one hundred times, impressive in any part of the world," Subrahmanyam said in a statement.