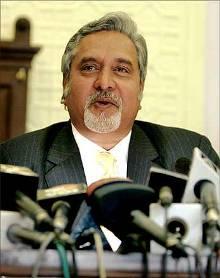 After trailing arch rival Kishore Chhabria in the global whisky market for two years, the Vijay Mallya-led United Spirits has wrested the leadership position as the owner of the world's largest whisky brand.

McDowell's, the whisky brand owned by USL, sold 19.27 million nine-litre cases of Indian made foreign liquor whisky in 2012, compared to Officer's Choice whisky, owned by the Chhabria-led Allied Blenders & Distillers, which sold 18.55 million cases.

According to IWSR, which supplies data and market intelligence on wines and spirits worldwide, sales of McDowell's whisky grew 15.3 per cent in 2012 over 2011 volumes, while Officer's Choice grew 8.4 per cent.

USL has been trailing since 2010, while Allied Blenders has been growing aggressively. Both brands figure in the global top 10 brands by volume, occupying the seventh and eighth positions, respectively, by the end of 2012.

The top six brands by volume are in spirits segment through various other offerings such as vodka, and soju (a rice-based Korean liquor), among others.

According to the latest IWSR report, India is the second largest market for spirits after China, and the Indian market grew 3.8 per cent in 2012 to 301 million cases.

The IWSR report added that USL is the second largest spirits company in the world after Diageo.

In 2012, USL sold a little over 119 million cases, growing 2.8 per cent, trailing Diageo by a small margin of 841,000 cases.

Diageo is in the process of acquiring board control of USL by the end of this month.

USL also figures among the top five spirit companies globally, in terms of value, at $6.38 billion.

It, however, lost 8.1 per cent in value terms and is the fifth largest spirits company globally, trailing Diageo, Pernod Ricard, Bacardi-Martini and Beam.

However, none of the Indian spirits brands figures in the top 10 in terms of value.

In addition to wresting control of the whisky league table in India, USL-owned Celebration Rum is the second largest rum brand globally at 17.6 million cases, growing by about 14 per cent, while Old Monk Rum owned by Indian company Mohan Meakin is the fifth largest rum globally at 4.3 million cases, sales of which contracted by a good 21 per cent, according IWSR.

The latest data from the IWSR also shows that seven of the top 10 growth markets are from the Asia-Pacific region, and most of this increased consumption is from local spirits.

China alone now accounts for 38 per cent of global spirits consumption.

The figure is 9.8 per cent for India.
Image: Vijay Mallya