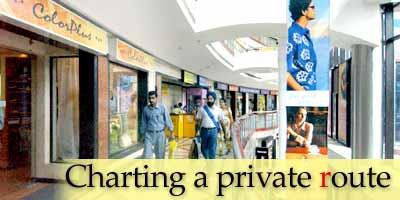 The names sound like they've been taken from a WWF programme sheet. There's Vittorio Frattini, Kashish, John Miller, Ventiuno and a tough-sounding Stone River Classic. But these aren't a bunch of ring-meisters: they are private labels that are on sale at the country's major retail chains.
The country's fast-emerging retail chains have a vast cornucopia of established brands to choose from. Increasingly, however, they are filling their shelves with in-store or private labels.
From Shoppers' Stop and Pantaloon to RPG Enterprises' Giant and Foodworld, Ajay Piramal's Piramyd and Delhi-based Ebony Retail, they are all readying their battery of private labels to jostle with the giant brands on sale.
One of the first to embrace private labels was Westside, run by Tata Group company Westside. Today, it's looking at ways of enlarging its private stable.
"It is a dynamic situation. Competition is forcing retailers to try out private labels," says Trent chairman, Simone Tata. Westside was the first store format to run purely on private brands. And while many in the industry had written early obituaries to the model, Tata appears to have had the last laugh.
Today, 70 per cent of the store's turnover comes from apparels, but 85 per cent of its revenues come from private labels. In the next three years Trent will push its current tally of 14 in-store labels to 20.
Simone Tata says she's looking at the possibility of introducing in-store labels in the lifestyle and home furnishing categories. Some of Westside's current clutch of brands include Gia for larger women, Stone River Classic for teens, Westsports sportswear and 2-fast-4-you for young men.
It's a slightly different situation at Shoppers' Stop. Of the 204 brands stocked by the Rs 400-crore (Rs billion) Shoppers' Stop, only five are private tags.
These include Stop and Life for youth and the mid segment; the premium ethnic ladieswear Kashish; Vittorio Frattini, a premium men's wear and DIY, a do-it-yourself unstitched salwar kurta set. Interestingly, the private labels account for 18 per cent to 20 per cent of turnover.
As a result it's hardly any wonder that the K Raheja Corp-promoted company is looking to launch a spate of private labels. In the next three years, it expects private labels to account for 30 per cent of revenues.
At the moment, apparel dominates Shoppers' Stop notching up 70 per cent of sales, but Shoppers' Stop managers say that it will go down..
Interestingly, the race to develop more private labels is evident in a range of varied categories from apparel, footwear, foods and healthcare to personal care and lifestyle products.
 "It works with anything to do with mass markets," says K N Iyer, director and chief executive officer of Piramyd Retail & Merchandising, the retailing arm of Piramal Enterprises.
Why are retail chains today building up their private labels so energetically? Retailers put forth a host of reasons.
Says Sanjay Badhe, customer care associate & director operations at Shoppers' Stop, "The world over, private labels allow for differentiation."
Adds Rucheera Gumber, senior consultant retail at consulting firm KSA Technopak, "In an era where all brands are available at different store formats, private labels are an effective tool to distinguish merchandise."
Sure. But one of the triggers, and possibly the main reason, is that the margins are better on private labels. For instance, in menswear, retailers say that gross margins on branded products vary from 25 per cent to 38 per cent.
Compared to that the retailers can earn whopping margins of around 55 per cent to 60 per cent on private labels. In women's wear, it is between 48 per cent to 50 per cent compared to around 35 per cent in branded gear.
Or look at foods. Private labels in supermarkets and hypermarkets like Big Bazaar, Giant, Food World, Nilgiris and Subhiksha are able to earn margins of between 30 per cent and 45 per cent on private label products compared to 15 per cent to 25 per cent on branded products. This despite the fact that private brands are priced at a discount to established ones.
Says Raghu Pillai, president & chief executive officer, retail sector of RPG Enterprises, "If you get it right, it can be a destination store." He should know. With 93 all-India outlets today, Food World was one of the first large scale supermarkets to be kicked off in the south.
Pillai says that 28 per cent of Food World's foods and groceries are private labels. That's why, even at Giant, its hypermarket in Mumbai and Hyderabad, private labels abound.
It is the same with Pantaloon's 13 Food Bazaars. A 500 gm tomato ketchup bottle retails at Rs 38 compared to Hindustan Lever's Kissan at Rs 49.
The retailers also believe that private labels give them more control over their shelves. They grouse that the big companies often squeeze supplies during peak seasons and festival time.
"In season or during festival time when demand is higher, we do not get additional stocks. With private labels, we are able to control the stock inventory," says Piramyd's Iyer.
Adds Gumber, "As they compete head-on with brand manufacturers, private labels offer retailers better negotiation power with suppliers."
This is particularly apparent in categories like apparels and footwear. That's because many of the players including Madura Garments, Raymond's Color Plus, Indigo Nation, Nike, and Reebok sell their products both at stand-alone stores and multibrand outlets.
So in peak season, while sustaining the stocks in their own stores, they hold back inventory for other outlets, says a marketing manager of a leading apparel maker.
The country's retail has been focusing on the top 23 cities. So while the top ten cities accounted for 94 per cent of retail sales two years ago, with the top six cities filling the shopping basket with 82 per cent sales, it is fast changing.
Says Gumber, "Organised retail is now percolating to smaller cities. This is evident from the proliferation of malls in the hinterland as well."
Another reason for building up private labels is to induce store loyalty, say retailers. In other words, with private labels not available anywhere else, if it clicks, then consumers return to the store.
Says Pillai, "Once you build a certain equity on a store, then it is a question of trust to get the consumer going." Says Shoppers' Badhe, "We are a house of brands and research has shown that customers look for choice when they come to us."
At Pantaloon Retail, director-operations and chief operating officer (COO), Ved Prakash Arya, who recently crossed floors from the Raheja group's Globus retail store, believes it is the emerging hyperniches in the sector which are also driving private labels.
"Customer demands have changed with changing lifestyles. Like in clothes, casual wear is now divided into partywear, outdoor wear, sportswear and lounge wear, something that wasn't there earlier," he says.
That's why, after nearly two decades, the flagship Pantaloon store has been repositioned. It has dropped its earlier "family store" positioning to don "the affordable fashion" tag.
In keeping with its new positioning, it phased out its Pantaloon trousers and replaced it with a melange of private labels including licensed brands.
Look at some of its launches in the last couple of months. Last month, it launched UMM, a licensed brand from Italy. It has tied up with Arvind Mills to sell its jeans exclusively in Pantaloon stores. There's utilitywear private label Rig , targeting 22-35 year women.
By this year end, it will have lounge wear named Leone and another one for kids. The company's chairman Kishore Biyani, recently said that his store would have 30 private labels by this fiscal end.
These private endeavours are also evident in its other ventures like Food Bazaar supermarkets which was recently hived off as a full-fledged division of Pantaloon.
According to Ambrish Chheda, chief, business development at Pantaloon Retail, Food Bazaar, which began as a shop-in-shop in Big Bazaar has a blueprint for 30 product lines under five umbrella brands. "We will use these chains as brand factories to flag off and nurture new private labels."
For a start, there's Premium Harvest for staples like Basmati rice, atta and edible oil. The ready-to-eat and cook categories will nestle under the name Tasty Treat.
Tastymate will shelter dairy products and beverages while Cleanmate hopes to wipe out the market with a range of home care products like detergents, utensil, floor and toilet cleaners. The personal care range will be under Caremate. "When private labels achieve certain volumes, they will become brands in their own right," says Chedda.
By next fiscal, there are plans to have 30 Food Bazaars, up from the current 13. And Chheda claims that turnover will be up from Rs 100 crore (Rs 1 billion) to Rs 500 crore (Rs 5 billion).
That's what the Rs 60 crore (Rs 600 million) Piramyd Megastore too is aiming for. Set up in September 1999, it charted the private route two years ago. Today, it has Rudra and Kaanz for ethnic women's wear and Ventiuno shirts for men.
"They account for 25 per cent of sales in ethnic and 30 per cent in net margins," says Iyer. He claims that they have commissioned a retail consultant to look at private labels in kids and men's trousers.
"We launch a private label when consumer need gaps arise or when a vendor can't place his brands across different price segments," he adds. For instance, it was believed that premium shirts were priced above Rs 1,800. So Ventiuno manufactured by group company Morarjee Brembano retails at Rs 1,500.
Take a look at Ebony, set up in 1994 and which now has eight stores in seven cities. Its private brands launched five years ago include Etc, Eny, E-Kids and E-Bluz.
Says managing director Neeta Narula, "Retailers in apparel business are stitching their time out in reproducing the best of high-street fashion in own brand labels, at prices that don't pinch. Moreover, it gives us an upper hand over the competitors and also attracts lots of customers."
But how do retailers ensure that consumers pick up their private labels vis-a-vis an established brand? "Getting a product is easy. But the fundamental objective of a private label is to expand the category per se and not take market share from established players," says RPG's Pillai. Adds Shoppers' Badhe, "The objective is not to outsmart competition. We have to give value to the consumer."
Sure. But the challenge is to make consumers pick them up.
Powered by