Users can register as YouTube partners and earn revenues by generating advertisements alongside the videos they upload on the site.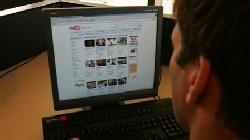 "We will allow users to earn revenue by allowing relevant advertisements to be displayed with their videos. Backed with YouTube's analytics and content management tools, Indian users can target a particular demographic, monetise the views his content gets in any country and even protect his content from content pirates," said Shenaz Zack, product manager, YouTube.

With 24 hours of video uploaded every minute and two billion plays per day, Google's YouTube has been facing copyright issues. What started as an initiative to keep the search giant away from copyright issues – Google's Content ID system identifies copyright materials upload on the site and removes them – is now allowing Google's media partners monetise their content.

Take the case of Yash Raj Films, the fourth most subscribed channel on YouTube India. It has been monetising its video content since the past one year.

Anand Gurnani, general manager (Internet & New Media), Yash Raj Films said: "We have over 30,000 subscribers on our YouTube channels and our click-through rates (CTRs) for advertisements is quite high."

While Gurnani did not disclose the ad revenues the channel makes, he said that new releases and video contests help the company draw many users and that directly helps in increasing ad revenues.

At present, YouTube has content partnerships with media and broadcasting majors like Yash Raj Films, Rajshri Films, Eros Entertainment, UTV Motion Pictures, Colors, Zee, Sony, NDTV Imagine, Aaj Tak and Star News, among others.

To ensure that copyright or original content is not misused, Google tags the content partners' video using content ID technique, a full set of audio and video matching tools that give rights holders fine-grained control for managing their content if someone uploads it on YouTube.

"The rights holders (or YouTube partners) provide Google with reference files of their original content and before any video is published, YouTube checks them against the reference files.

Whenever Google finds a match – if someone else uploads copyright content – the rights holder can either block, track or make money from the video," explained Zack.

YouTube scans 100 years of video every day for potential copyright violations and carries out the same process before it publishes any partner clip on the site. Zack said over 33 per cent of YouTube's monetised views now come from videos that have been claimed by rights holders using their content ID.

Leading Indian film studios, like Yash Raj Films, Rajshri Films, Eros Entertainment, and UTV Motion Pictures among others, have reportedly seen a three to five fold increase in video views and revenue in 2010.

"Many of them have been using their content IDs to keep track of pirated content that gets uploaded online ahead of a film's release. Also, many studios choose to monetise the views that their videos generate by allowing advertisers to place adverts," said Zack.

In simple words, Yash Raj Films shares the reference files of pre-theatrical releases to ensure pirated content is not upload even in parts on YouTube.

Zee TV too has taken on pirates by using content ID to track down user channels that often copy programmes and broadcast on the internet.

"Content and audio ID are like fingerprinting techniques that help content creators keep a track of their content on web. Most of the times, when users use copyright content from us for their home videos or for sharing on the web, we opt to monetise the content instead of taking the shared content down," said Gurnani.

More than 1,000 global partners are reportedly using their content IDs, including every major US network broadcaster, movie studio and record label.

YouTube has amassed over four million reference files (over 300,000 hours of material) in its content ID database and this has quadrupled between 2009 and 2010.

YouTube expects thousands of users from India to join it as partners, and has already hired resources in Mumbai and New Delhi offices. "We do realise that a lot of content will have to be tagged and verified for copyrights when we launch our video partner programme in India," says Zack.

He reveals that in its beta testing phase, the programme has drawn "hundreds" of individual content partners from India.

Cash by chance

A successful instance of user-generated content being monetised on YouTube was the JK Wedding viral video uploaded in 2009 on the site.

The 'JK wedding entrance dance' video had used Chris Brown's 'Forever' song to highlight the bride's entry. The video went on to become a huge hit as a result of viral publicity.

Instead of pulling the video down, Brown's record label - Sony - agreed to leave the song intact within the video, which has now seen over 58 million views providing Sony with both advertising revenue and a huge increase in online sales of the song at Amazon and iTunes.

The video was the third most popular video on YouTube in 2009.