The RBI is expected to cut policy rates on March 19, according to a Reuters poll, after the weakest economic growth in a decade, slowing inflation and a commitment by the government to contain its fiscal deficit.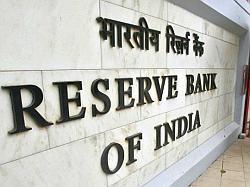 Of 40 analysts polled, 32 expect the Reserve Bank of India to cut the policy repo rate by 25 basis points to 7.50 percent, a view in line with a poll conducted in January.

The latest survey was conducted before Tuesday's data that showed industrial production expanded in January for the first time in three months while retail inflation picked up slightly in February.

However, the wholesale price index for February, which is the key measure of inflation, is due out on Thursday and the consensus forecast is that prices rose at their slowest rate in more than three years. Such a moderation may give the RBI the breathing space to consider a rate cut.

"Continued downside surprise in growth, along with relatively benign inflation prints and sharp tightening in government spending, should allow the RBI to deliver one more 'calibrated' dose of easing," said Siddhartha Sanyal, India economist at Barclays Capital.

"The elevated current account (deficit) remains a concern. But the growth-inflation dynamics should be overpowering at the moment," Sanyal
said.
The RBI cut the repo rate by 25 basis points to 7.75 percent in January after leaving rates on hold for nine months. The bank said at the time that sticky inflation as well as high current account and fiscal deficits remained constraints for big cuts.
India's economy grew at 4.5 percent in the December quarter and is on track for its slowest performance in a decade at around 5 percent for the fiscal year that ends in March.
The median estimate of 36 respondents in the poll is for the RBI to further reduce the repo rate by 25 basis points by June.
The new poll also showed rate cut expectations further in the year are appearing less certain, with half of respondents now expecting the repo rate to fall to 7.00 percent by the end of December. In the last poll, 15 of 29 respondents expected the repo rate to fall to 7.00 percent by the end of September.
RBI Governor Duvvuri Subbarao struck a hawkish note last week, rejecting views of high inflation as a "new normal" for India and said many of the supply driven causes can be corrected.
Most respondents expect the central bank to keep the cash reserve ratio (CRR) for banks unchanged at 4 percent. CRR is at its lowest since 1976. Of the 37 respondents, 31 do not expect a CRR cut on Tuesday.
(Additional reporting by Mumbai treasury, additional polling by Ruby Cherian in Bangalore)