Auto major Mahindra has ambitious plans for its electric cars project, that include ramping up its output to 60,000 units a year, high-end electric powertrains, and 380 to 650 volt battery systems.
Rajesh Karkera/Rediff.com listens in.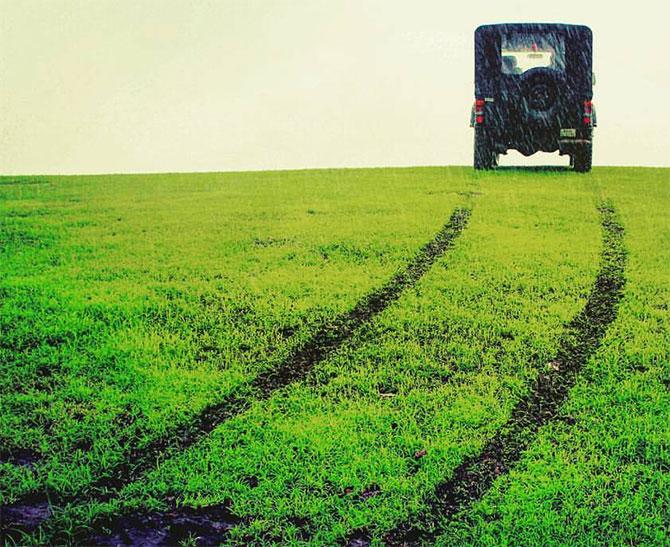 Photograph: Kind courtesy, Milind Kale
The era of electric vehicles, or EVs, is about to dawn in India. One clear sign is the amount of media coverage that EVs have got in India. In the past seven months alone, more has been written about EVs than in the last seven years!
"One can clearly see that in terms of the need for clean technology, electric vehicles play a major role," said Pawan Goenka, managing director, Mahindra & Mahindra, on Wednesday while unveiling his company's technology and product roadmap that aims to produce 60,000 units of electric vehicles per annum over the next two years. "There is clearly more interest and focus coming from the Government of India, and the state governments."
But they are not the only ones. "Fleet taxi operators and aggregators are also showing a lot of interest in EVs as their future. They are interested in introducing EVs into their fleet even at this stage of infancy (of EVs)."
These are among the other points Goenka made:
"In terms of clean tech, clearly electric technology is emerging as the winner globally. Right now many original equipment manufacturers and many new auto industry players in Silicon Valley are working on dozens of start-ups, investing 100s of millions of dollars in this technology."
"By and large the tech there is focussed on high-end vehicles with 300 to 400 volt batteries which have a capacity of running for a range of 400 km, vehicles costing up to $50,000 which are affordable mostly by the rich only."
"What we are doing in India is to focus on affordable mobility. And given how we are fighting for air quality, not just in Delhi but in other metro cities too, our focus had been to look at three things -- affordable mobility, mass mobility and what is suitable for an Indian because not everything works in India as good as it does outside the country."
The Mahindra group's electric vehicle development, named Mahindra Electric (previously Reva), the first and only manufacturer of four-wheeler EVs in India, has announced that it will invest to ramp up manufacture and development of high-end electric powertrains, motor controllers, system integration and battery technology.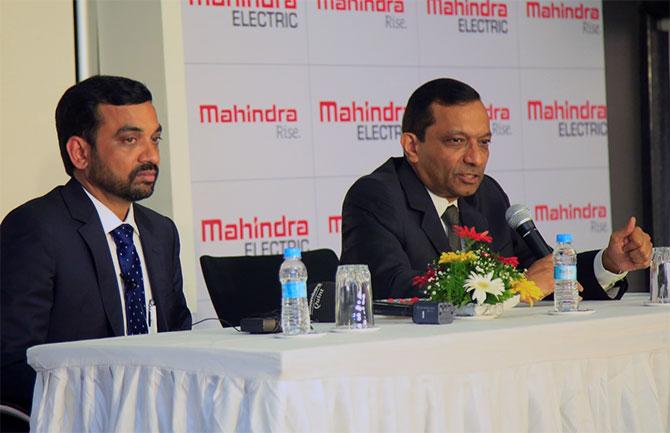 Image: Mahesh Babu, CEO, Mahindra Electric, and Dr Pawan Goenka, managing director, M&M Ltd, unveil the group's ambitious plans for electric vehicles. Photograph: Rajesh Karkera/Rediff.com.
The technology which currently drives their electric cars and commercial vehicles are mostly 72V lithium batteries which have a power output of 25KW to 30.5KW and can power the cars for a maximum range of 140 km in one charge, depending on the model being driven.
Mahindra is now working on new high-end electric powertrains and motor controllers which will be powered by 380V to 650V batteries that can power the vehicles up to 400 km.
Mahindra is terming this all-new initiative as 'EV 2.0', and the announcement, points out autocarindia.com, comes on the heels of Niti Aayog, the government think tank, revealing a draft of the country's planned shift to EVs by 2032.
What is Mahindra's role?
"We have now invested up to Rs 600 crore (Rs 6 billion) on electric vehicles, but there hasn't been that much sales, which is fine. This is not just something which is business for us, we passionately feel about this issue too. We hope to be the pioneers to promote EVs in India."
"We have 3-4 fleet operators who have approached us for EVs, especially the E-Verito, our 5-seater sedan."
"We have installed 35 fast charges between Bangalore and Delhi right now, which of course is not enough. A metro city itself needs about 250-300 fast charging points for EVs. But without much volume of cars on the roads, there cannot be enough charging stations. Hence, we have taken this leap of faith and decided to invest in increasing the capacity of electric vehicles."
"Right now we have a manufacturing capacity of 100 to 150 vehicles a month, which we will be increasing in the next few months to 500 vehicles a month, and from there on to 5,000 vehicles a month at our plant in Jharkhand."
Mahindra's vision
"I would bifurcate this into three segments. The segment which can improve the fastest is fleet transport. Once the taxi aggregators realise that electric vehicles is where the future is, they will soon jump into it. I see a very fast ramp-up there."
"The problem today is that even if we were to sell our vehicles at zero profit, it is still not justifiable to buy it on a per km cost. Therefore, there is a need for us to reduce costs. And if we manage to get a 20 per cent subsidy, then there will be a fast ramp-up of EVs."
"If the costs come down there is no reason why a fleet operator will not opt for these cars. They are cleaner, will get you better PR for using EVs and the customers too will be happy. And an EV which can run for 350 km on one charge will easily be more attractive to a fleet operator."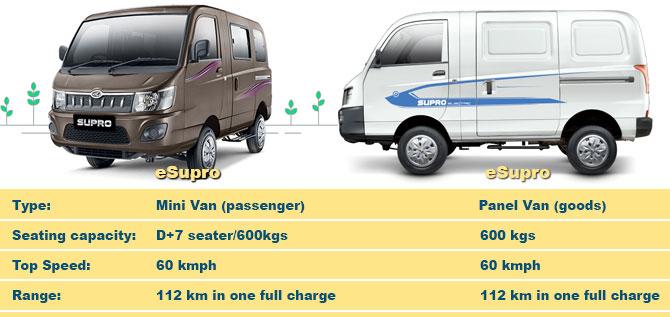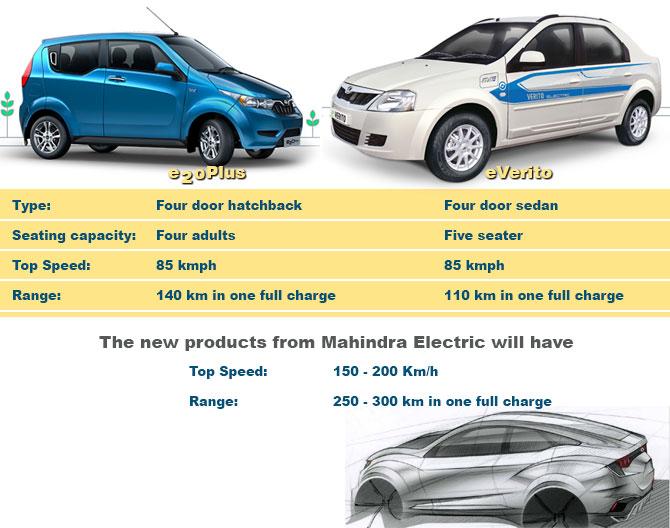 Image: Mahindra's existing passenger EVs and the soon to be launched one.
"The second segment -- the low end personal use customers -- will, however, take longer to buy these cars. They will first see how these cars do on the roads, see how the fleet performs first and only when satisfied will they opt for it."
"The third segment is the high-end users. These are cars above the Rs 30-35 lakh mark. How quickly they can ramp up to EVs will all depend on the manufacturer. I think if anybody launches a high-end EV which performs as good as any other high-end petrol/diesel variant, looks as stylish, then we will see a lot of people transitioning."
The commercial segment
Mahindra is working on a 32-seater bus which will run on batteries, to be launched in about a year and a half.
"Buses will become very affordable if the plan that Niti Ayog has talked about, of 'swappable' batteries, comes true. If this works then buses and autorickshaws, which will run on 'swappable batteries', need not wait 40 minutes to recharge. All they have to do is swap the worn-out batteries for fully-charged ones."
"These plans have been talked about for years now. But what has changed now is a real serious thrust from the Government of India.
"From what I understand, the Prime Minister's Office is interested in electric vehicles, and three government departments are already working on it."
Are the lack of charging stations a bottleneck?
"I think this is just over-emphasised. I believe this is not such a big problem. The total investment required for 250 fast chargers which is reasonably sufficient for about 2,000 vehicles in Mumbai itself, even at current costs, would be about Rs 10 crore."
"Once the volume goes up, the cost of chargers will comes down. The government has initiated talks with charger manufacturers to get the costs down to Rs 120,000-Rs 130,000. The amount is not very large."
"But the question is, who will put it up? An OEM cannot. A charging unit cannot be dedicated to just a Mahindra vehicle or some other brand. It needs to be owned by an infrastructure company, or by the government."
"Even though the investment is not very large, somebody has to come forward and say 'I am the manufacturer of charging infrastructure. I am putting up this investment. And I will bill it to the cost of electricity that I will supply'.
Video: Dr Pawan Goenka, managing Director, Mahindra and Mahindra Ltd. explains the company's new initiatve, EV 2.0
"A lot of people are talking about this but right now, no one is willing to make the investment, as there are not enough electric vehicles on the road. One wouldn't want an idle charging point on the road, would he?"
"This is where the government will have to come forward and say 'I am going to come forward and put in, say, Rs 100 crore worth of chargers in Mumbai'. And then let someone else come and operate it."
"India can take a core position in the rise of electric vehicles on the global market."
"All this is a little delayed, but I am sure this will happen."