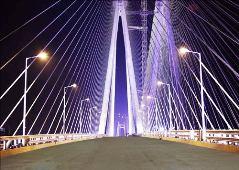 There many not be any substancial progress in transforming Mumbai into an international finance centre as claimed by authorities.

But developing infrastructure in the mega city is high on agenda for the Maharashtra government.  

The state government, through its various undertakings, has launched infrastructure development projects worth Rs 1.03 lakh crore (Rs 1.03 trillion) in Mumbai and surrounding areas.

To ensure the required fund flow for completing these projects on a fast-track and launch new ones, the government is now turning towards the Centre.

The state has appealed to the Planning Commission for the introduction of the concept of National Projects for Mega Cities in Maharashtra. Projects being developed under that scheme would get 90 per cent of funding from the Centre.

Chief Minister Prithviraj Chavan, who led a delegation to meet Planning Commission officials on May 29, told Business Standard there was a need to create a separate line of funding for addressing the challenges of mega cities.

"I have requested the Planning Commission for a separate dedicated pool of funds, the access to which could be governed by a totally different set of reforms having specific relevance to the development of particular mega city," he said.

Among the slew of infrastructure projects being developed in the city, the Mumbai Trans Harbour Sea Link, a multi modal corridor and coastal highway were quite crucial, said Chavan.

As far as coastal road in Mumbai is concerned, the state government has estimated that nearly 100 hectares of land needs to be acquired, he added. "We hope to get the environment clearance." 

Moreover, in order to make the Mumbai Metropolitan Region slum-free, the state government has appealed to the Centre to consider issuing separate guidelines to free up lands held by its various departments including the railways, defence, port trusts, and the Airport Authority of India.

"The Mumbai Metropolitan Region faces the biggest challenge of making itself slum-free in a reasonable span of time.

"We need out-of-the-box solutions, and we need support from all the agencies under the central government to conduct detailed surveys of encumbered land under their ownership, determine the tenability of such land and also assess the requirement of alternative land for those slum-dwellers who cannot be rehabilitated due to operational requirement of such land or due to security considerations," Chavan said.

According to the state government, over a lakh hutments were estimated to be residing on land owned by the central government and its departments.

The government argued that the salt pan land under the control of central government agencies could be freed for housing of slum dwellers.
Image: Mumbai Sea Link