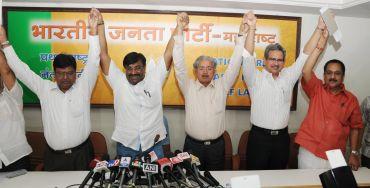 Bharatiya Janata Party, Shiv Sena and Republican Party of India on Tuesday appealed to people of Maharashtra to observe bandh on May 31 to demand complete rollback of the steep petrol hike of Rs 7.50 per litre.
State BJP president Sudhir Mungantiwar and Sena leader Subhash Desai told the media in Mumbai that essential services will be excluded from the bandh.
RPI leader Arjun Dangale was also present on the occasion.
The opposition leaders lashed out at the Nationalist Congress Party for making critical statements about the petrol hike.
"NCP's double standards have been exposed. The party should withdraw from government instead of just criticising," they said.
People were facing hardships due to the wrong policies related to import of crude and production of ethanol, Mungantiwar said.
Mungantiwar said the steep hike in petrol prices will result in more inflation. He described as "unfortunate" the attempts by the central government to pass on blame to the oil companies.
"It is the job of the government to make policies and take decisions," he said.
"We welcome even the NCP to join our agitation by quitting the government," he added.
RPI leader Arjun Dangale criticised Chief Minister Prithviraj Chavan for refusing to cut petrol tax saying that the state was facing drought. "A senior Cabinet minister in his government, Laxman Dhobale, says drought has been hyped by the media," the RPI leader said.
Meanwhile, Desai expressed confidence that the bandh would be total in the state, including Mumbai. "Maharashtra government was also responsible for burdening the common man like the Centre because it has refused to cut petrol taxes," the Sena leader said.
The opposition leaders said the bandh would be peaceful and people would wholeheartedly support it to vent their anger against the government's policies.
When asked about the Rs 20 lakh fine imposed by the Bombay high court few years ago for loss of property during a bandh, Desai said the two parties had challenged the HC order in Supreme Court and the decision was pending.
"The UPA government under Manmohan Singh has been a total failure in tackling economic situation in the country. It has not implemented any major scheme to tackle this grave crisis," the opposition leaders said.
To a question on whether the suburban trains would run during the bandh, they said they cannot stop the trains but were confident that they would be running empty.
When asked if the saffron alliance will seek support of Raj Thackeray's MNS for the bandh, Desai said it was not party-specific. All those who feel the steep hike is not justified should participate, he added.
Image: Leaders of BJP, Shiv Sena and RPI at the press conference in Mumbai on Tuesday
Photograph: Sahil Salve