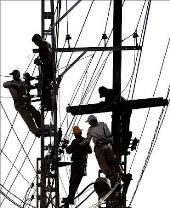 The Maharashtra government is scouting land to set up three solar energy plants as part of its efforts to augment electricity generation in the state.

Sources in the state energy department told PTI that the three plants of 50 mw each would be set up in Osmanabad and Parbhani.

"We need atleast 100 hectare of land and are looking for it for setting up two plants in Parbhani and one in Osmanabad.

The electricity generated will go to the grid," sources added.

The government has zeroed in on the sites for setting up of the plants and is currently verifying technical details, sources added.

"This process will be completed in June after which the details will be made public. It is expected that the plants would come up in a year's time," sources said.

The three units will be set up using two kinds of solar plant technology -- Thin film and Crystalline.

Considering the need to reduce the electricity shortfall to meet the December 2012 deadline of zero load shedding in the state, the government is planning to use non-conventional
energy resources to improve electricity generation.
According to sources, once the plant site is finalised, the project can come up in six months and Mahagenco can start the generation. The solar energy will cost Rs 7- 8 per unit.
The state government had already announced a 125 mw solar plant in Dhule but since the Forest department claimed that it was their land, central government permissions were required.
"Hence the proposal is pending before the central government," sources added.
Sources said production of one mw of solar energy requires 2-2.5 hectares of land.
Gujarat and Rajasthan are doing well in Solar energy generation.
Requirement of land is more for setting up solar plants and it results in problems, sources admitted.
Meanwhile, the electricity shortfall in the state is at present approximately 1200 mw with the availability being about 14500 mw and demand being 15700 mw.
Sources expressed confidence that the target of zero loadshedding in the state by December 2012 will be met.