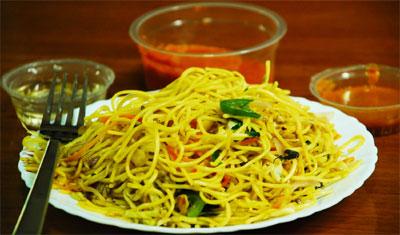 Under fire over Maggi issue, Nestle India said on Monday that it has tested samples of the noodle brand in an external laboratory as well as in-house and the product has been found "safe to eat" with lead levels within the permissible levels for consumption.
The company was, however, silent on the presence of the taste enhancer monosodium glutamate (MSG) in the famous 'two-minute' noodle brand.
Nestle India further said it is "fully cooperating with the authorities who are conducting further tests and we are awaiting their results".
"We have also submitted samples of Maggi Noodles from almost 600 product batches to an external laboratory for independent analysis and we tested samples from almost 1,000 batches at our accredited laboratory," the company said in a statement.
These samples represent around 32 crore packets, as one batch comprises of about 200,000 packs. All the results of these internal and external tests show that lead levels are well within the limits specified by food regulations and that Maggi noodles are safe to eat, it added.
"We are sharing these results with the authorities," the company said.
Last month UP FSDA asked Nestle India to withdraw a batch of Maggi noodles "which were manufactured in February 2014" after it found high levels of added monosodium glutamate (MSG), a taste enhancer, in the noodles and lead beyond permissible limits.
While the company had earlier said that it does not add MSG to Maggi noodles, the UP Food regulator has rejected this claim.
Subsequently, a case was lodged against the company in a local court at Barabanki over safety standards of Maggi, while actors Amitabh Bachchan, Madhuri Dixit and Preity Zinta were also separately dragged to court for promoting the 'two-minute' noodles brand.
Stating that consumers are concerned by reports that the authorities in Uttar Pradesh have found elevated levels of lead in a sample pack of Maggi noodles, the company said: "We are fully cooperating with the authorities who are conducting further tests and we are awaiting their results."
It further said: "We regularly monitor all our raw material for lead, including testing by accredited laboratories which have consistently shown levels in Maggi Noodles to be within permissible limits."