According to government data, the Centre procured only 35,179 ventilators out of the 50,000 originally ordered.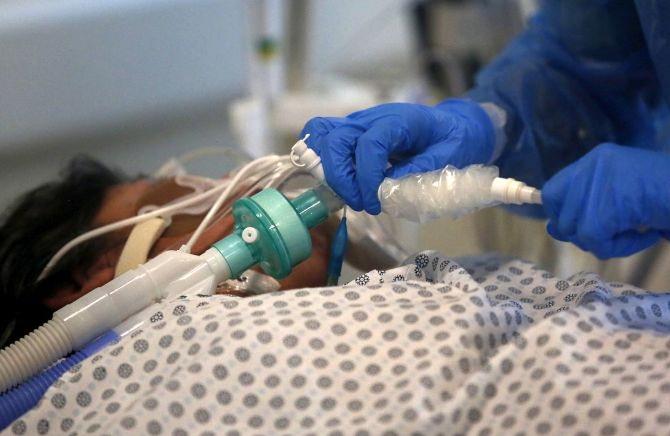 As India battles the second wave of the Covid-19 pandemic, several state governments are grappling with a shortage of ventilators, primarily because domestic manufacturing and supply of ventilators dwindled after the initial push by the Centre last year.
With hospitals unwilling to take 'Made in India' ventilators, the government curtailed the requirement it had originally envisaged in 2020.
And as orders from the government dried up, manufacturers, too, stopped production.
When the pandemic first hit last year, and exposed the country's lack of medical preparedness, the central gove­rn­ment stepped in to order ventilators in bulk from home-grown manufacturers.
In a press briefing on April 9, 2020, the ministry of health and family welfare said orders had been placed for procuring 50,000 critical care ventilators (CCV).
By June, Rs 2,000 crore was allocated for supplying 'Made in India' ventilators to government-run Covid-19 hospitals across the country through the PM Cares Fund.
While 30,000 ventilators were being manufactured by Bharat Electronics Limited (BEL), the balance 20,000 were to be produced by AgVa Healthcare (10,000), AMTZ Basic (5,650), AMTZ High End (4,000), and Allied Medical (350).
However, according to the government data reviewed by Business Standard, the Centre procured only 35,179 ventilators out of the 50,000 originally ordered.
AgVa Healthcare, the Noida-based manufacturer, had tied up with India's largest carmaker, Maruti Suzuki, to build 10,000 ventilators.
Though it has manufactured all 10,000 CCVs, the government picked up only half the order.
This led AgVa-Maruti to stop production in June last year.
Maruti Suzuki chairman RC Bhargava told a television channel on Tuesday that the government did not procure all the ventilators that it had ordered.
These include the ones manufactured by Maruti in collaboration with AgVA Healthcare.
According to industry sources, though AgVa made the ventilators in record time, by May 2020, even after a year, the government is yet to pick up half of this order.
As many as 5,000 ventilators are still sitting in AgVa's warehouses.
However, sources also said multiple hospitals had raised concerns about the quality of AgVa's ventilators.
According to a Huffington Post India news report last year, a government panel had said AgVa's Covid-model ventilators "should not be considered as a replacement for high-end ventilators in tertiary care ICUs".
Nalin Shinghal, chairman and managing director, BHEL, said, "We have not manufactured any ventilator; we do not have the manufacturing capacity for it. We tried to look for but did not find a partner."
Similarly, the Integral Coach Factory (ICF) also invited expressions of interest (EoIs) and said it was exploring the possibility of collaborating with established ventilator manufacturers.
But this does not seem to have gathered steam, too.
However, not every company faced hurdles.
Noccarc Robotics started manufacturing ventilators last year.
With Covid-19 cases going up again, the company has been inundated with calls for supplying ventilators from states like Maharashtra, Gujarat, Bihar and Delhi.
"In the last 20 days, we have dispatched 200 units and we have pending orders of 1,000-1,200 units.
"In the last few days, requests for ventilators have surged to 3,000-3,500.
"The requests have come from both government and private hospitals," said Harshit Rathore, co-founder and CTO, Noccarc Robotics.
When asked about the demand for ventilators when Covid cases were declining, Rathore said some of the smaller hospitals which started creating ICU facilities had approached them for ventilator systems.
Hyundai, too, had tied up with Air Liquide Medical Systems in April last year to manufacture 1,000 ventilators in the first phase.
While it had plans to scale up, due to lack of orders it did not do so.
Indian Railways also tried its luck with manufacturing ventilators.
In April 2020, the Railways developed a low-cost ventilator called Jeevan at its Kapurthala Rail Coach Factory (RCF).
It was to cost Rs 10,000 without the compressor and the RCF had the capacity to make 100 such ventilators per day.
But the project never took off due to the unavailability of parts.
Photograph: Marcelo Hernandez/Getty Images