At least half a dozen are in the works with increasing brand awareness and growing purchasing power in upper classes.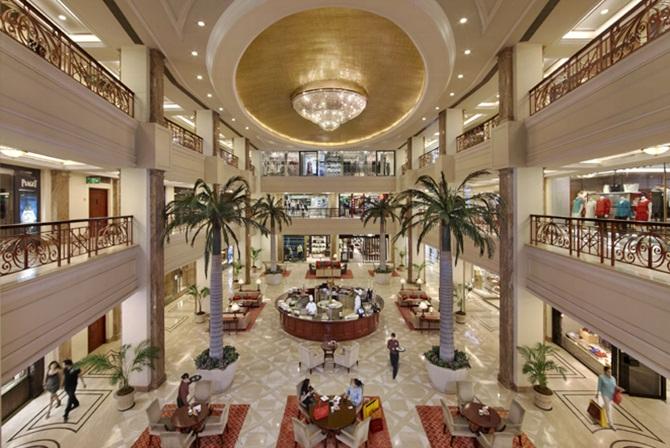 Malls selling luxury brands are increasingly catching the fancy of property developers and corporate groups. At least half a dozen luxury malls are either being built or being planned, said realty sources.
Major luxury malls in the country are DLF Emporio in Delhi, The Collection (UB City) in Bengaluru and Palladium in Mumbai, selling top-end brands.
Developers are looking to tap the demand from the ultra rich in metros and Mumbai is taking a lion's share of the new ones. Reliance Industries, for instance, is looking to build a luxury mall of "substantial size" in its convention centre project at the Bandra Kurla Complex (BKC), said a source in the company.
"There is very little space available outside five-star hotels in Mumbai and its suburbs can take more of luxury properties. Besides, it is a high-premium locality and has a lot of propensity to spend," said the source.
Maker Group, which has a joint venture with Reliance for the Maker Maxity commercial complex in BKC, is also looking to build a luxury mall in the locality, said a source. The group is developing the mall as part of its MGM Bellagio hotel project there. Maker could not be reached for comments.
Mumbai-based Oberoi Realty is looking to build a 500,000 sq ft luxury mall in the city's Prabhadevi area, a mixed land-use project which will have a Ritz Carlton Hotel and The Residences managed by Ritz Carlton Mumbai. The company could not be reached for comments.
In Delhi, DLF is developing a 200,000 sq ft mall in the Chanakyapuri area and has already leased out 60 per cent of it. It is negotiating to lease out another 25 per cent. This mall is at the centre of the Lutyens' zone, housing the powerful and wealthy.
"Demand for luxury in the city is stable, and showing signs of growth," said Sriram Khattar, chief executive, rental business, DLF. It is spending Rs 350 to Rs 400 crore on this mall, scheduled to be completed by early next year. Khattar said the company had been able to show with Emporio, housing brands such as Gucci, Giorgio Armani, Canali and Jimmy Choo, among others, that they could offer luxury experience.
Anuj Puri, chairman of JLL India, says luxury malls in India have seen varied success. "Earlier ones, catering only to a particular category or segment, are repositioning themselves to include a more comprehensive trade and tenant mix. Often, a sharp focus on only luxury for HNI (high net worth) shoppers needs to be toned down, so as to be a bit more inclusive of potential shoppers from other income groups," he said.
Adding: "There is a lot of demand for luxury goods in India but apart from that class of wealthy shoppers, this demand can vary along with how the country is performing on a macro economic level. Appetite for luxury goes up in good times and decreases in not-so-good times."
In January this year, a study by business chamber Assocham said with increasing brand awareness and growing purchasing power of the upper class in tier-II and III cities, the Indian luxury market was expected to cross $18.3 billion by 2016 from the current $14.7 bn, a compounded annual growth rate of 25 per cent.
Susil Dungarwal, chief mall mechanic at Beyond Squarefeet Advisory, a mall management entity, feels developers are looking at luxury malls as it adds brand value to their portfolio. "For instance, Emporio might not give better returns than Promenade (a mall in the vicinity) but it certainly adds value to DLF."
He says the cost of construction for a luxury mall is three times more than for a normal one but the returns are two times higher.
"Cost of construction of a luxury mall in Mumbai is Rs 12,000 a sq ft and for a normal mall is Rs 3,500 a sq ft," he said. And, that a normal mall commanded rent of Rs 350 a sq ft in South Mumbai but a luxury mall got Rs 700-Rs 800 a sq ft.
TAPPING OPPORTUNITIES
Mall developers are looking to tap the demand from ultra-rich in particular localities in metros
RIL is eyeing to build a luxury mall of 'substantial size' in its convention centre project in Bandra Kurla Complex in Mumbai
Maker Group aims to build a luxury mall in the BKC area
Mumbai-based Oberoi Realty is mulling to build a 500,000-sq ft luxury mall in Prabhadevi area of Mumbai
In Delhi, DLF is developing a 200,000-sq ft mall in Chanakyapuri area