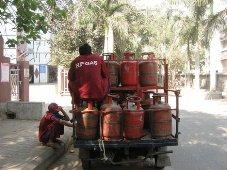 Congress president and United Progressive Alliance Chairperson Sonia Gandhi has directed all party-ruled states to subsidise three additional cylinders a year for domestic liquefied petroleum gas, raising the cap on subsidised cylinders from six to nine.
Her decision came within an hour of the Congress core committee meeting she chaired at Prime Minister Manmohan Singh's residence this morning. At the meeting, it emerged there could be certain relaxations, like the one in case of LPG.
However, Gandhi sent out a clear message to all parties, including the disgruntled Trinamool Congress, that the Congress-led UPA intended to stick to its stand and not roll back any of its economic decisions.
Speculation was rife the party might reconsider its decisions, owing to the political fallout -- the Trinamool Congress withdrawing support and allies such as the Samajwadi Party, the Bahujan Samaj Party and the Dravida Munnetra Kazhagam showing signs of restlessness.
The Bharatiya Janata Party, backed by the Shiv Sena and the Janata Dal (United), had reportedly considered calling for a special session of Parliament for a vote of confidence.
After the meeting, Finance Minister P Chidambaram stated the government and the prime minister had tried to speak to Banerjee, but she wasn't available.
However, an incensed Banerjee soon lashed out at the Congress, saying this was a 'distortion of facts' and no attempt had been made to contact her. She also ridiculed the increase in the cap for LPG cylinders announced by the government.