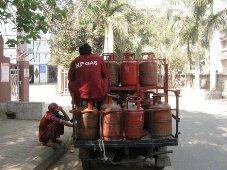 A Congress member on Tuesday expressed concern in Lok Sabha over the LPG cylinder cap and demanded a rethink, getting all-round support as he spoke of 'untold miseries' facing the common man in the wake of the decision.

Raising the issue during Zero Hour, Congress member Jagdambika Pal said the move had led to a flourishing black market and made a strong demand for raising the cap of LPG cylinders from six to at least 12.

He said the cap has played havoc as families across the country were forced to buy cylinders in the black market, paying much above the Rs 950 rate fixed by the government.

The problem was more acute in hilly states like Jammu and Kashmir, Himachal Pradesh and Uttarakhand where families needed more fuel to keep warm during the winters.

Pal's plea found instant support with
thumping of desks from the treasury benches as well as the Opposition members, some of whom protested over the government decision by chanting 'shame, shame'.
Pal said the decision has also led to growing instances of gas companies harassing customers as the provision of one connection for a single address created problems for divided families and tenants living in the same house.
The cap is 'painful for the entire nation', Pal said, evoking shouts from BJP benches that 'Congress does not understand the nation's pain'.
Maintaining that the decision was causing immense hardship to the people, the Congress member asked the government to direct oil companies to review the decision and increase availability of LPG cylinders.
When opposition members started protesting against the move, Francisco Sardinha, who was in the Chair, remarked that they should be happy as Pal was raising their issue.