'We want the government to provide job security for all these workers,' says E S N Reddy, district general secretary of CITU.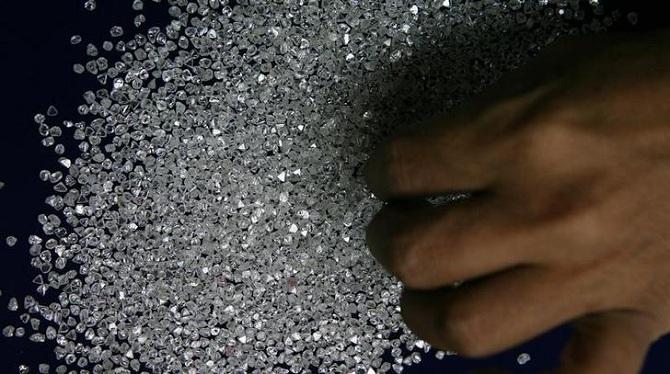 It took a week for the voices of 1,200 Hyderabad Gems SEZ workers from Raviryal village, just about 30 km from Hyderabad, to reach the city.
The livelihoods of these workers -- 700 of them differently-abled and mostly women -- was disrupted last week when search and seizure operations were conducted by the Enforcement Directorate on the premises of the 89-hectare Hyderabad Gems SEZ, owned by the Gitanjali group.
First, the cutting and polishing work disappeared as there were no raw diamonds to work on. Then, the free transport provided by the company stopped.
"Nobody offered any solution when we started protests at the office premises after we lost our work over a week ago. Then, our MLA visited us and offered support, but we still don't know if someone will be able to get our jobs back," said 33-year-old Sultana, a differently-abled, single woman.
Started in 2006, the diamond polish units at Hyderabad Gems SEZ largely engaged people from neighbouring villages. Many like Sultana, who began working at the site about 12 years ago, started with a meagre salary of Rs 700 per month. Now, they get around Rs 14,000 per month. A salary of Rs 3,500 per month was given to more recent workers.
Samrajyam, a differently-abled, single woman who joined more than 10 years ago, comes to work from the far off district Khammam. Most of these workers know nothing except diamond polishing. Some had purchased scooters to reach the site and have to pay monthly installments of as much as Rs 2,500. With their jobs gone, they are unsure how they would repay the loans.
Taking up their cause on Friday, the Centre of Indian Trade Unions and other workers' unions held a round table meeting. "We want the government to provide job security for all these workers," said E S N Reddy, district general secretary of CITU.
Gopi Jagannadham, deputy development commissioner of the SEZ Development Commissioner office in Hyderabad, told Business Standard: "We would have certainly tried to accommodate these workers had there been any other diamond polishing unit around here. A small company named Sri Krishna started a diamond polishing unit with 60-100 workers in October last year. I don't think they will be able to do anything to help. We have alerted our higher authorities."
A state labour department official said the matter was under the jurisdiction of the SEZ development commissioner and it is for them to find a solution.
Photograph: Arko Datta/Reuters.