L&T Finance Holdings would buy Pantaloon Retail's 50 per cent stake in Future Generali, Future Group's general insurance joint venture with Italy-based Generali Group, for an estimated Rs 560 crore (Rs 5.6 billion), sources said today.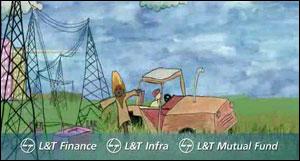 Pantaloon Retail would offload the stake through direct and indirect transfer to L&T Finance Holdings, sources said, adding the deal could value Future Generali India Insurance Company at around Rs 1,100 crore (Rs 11 billion). The contours of the deal are being finalised and an official announcement is expected on Tuesday.
In the JV, 74 per cent stake is currently held by Future Group - 50 per cent by Pantaloon Retail and 24 per cent by the family of the retail chain's promoter, Kishore Biyani - while the Italian partner holds the remaining 26 per cent.
There had earlier been media reports that L&T Finance Holdings was in talks for the stake purchase, but the company had denied that. It had clarified to the Bombay Stock Exchange that it was not in discussion for any such deal.
L&T Finance Holdings had told BSE in November last year that it was a subsidiary of L&T and, hence, not eligible to be the sponsor of an insurance business under the Insurance Regulatory and Development Authority (Irda) norms.
According to the Irda (Registration of Indian Insurance Companies) Regulations, 2000, an Indian promoter can be a company formed under the Companies Act, 1956; not a subsidiary as defined in Section 4 of that Act. This means subsidiaries cannot become promoters of insurance companies.
A senior Irda official today said the regulator had not received a proposal from the parties concerned; it would take a call after it received the proposal.
Future Group had earlier said it planned to exit its non-core businesses and concentrate on the core retail operations. Spokerspersons of both the companies were unavailable for comment.