Over the past 12 years, the stock market's value has risen whenever foreign institutions have pumped money into the country's equities. However, a Business Standard study shows, the year 2013 seems to be deviating from the traditional correlation between foreign portfolio inflows and investor wealth creation.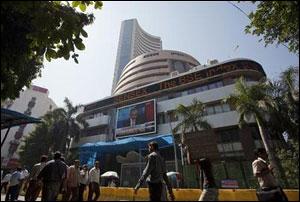 The inflows from foreign institutional investors (FIIs) have coincided with a decrease in investor wealth so far this year. The analysis, which compares the change in the total market cap of all Bombay Stock Exchange (BSE) -listed firms with the amount of FII flows, shows FIIs have net-bought Rs 53,377.60-crore (Rs 533.78 billion) stocks since January, while the overall market cap of all companies has declined by Rs 5.96 lakh crore during the period. This means, every Rs 1 crore of FII inflow has coincided with a Rs 11.17-crore (Rs 118 million) fall in investor wealth.
This is clear departure from the general trend. Sample this: In 2007, at the peak of the previous bull run, FII inflows of Rs 71,486.3 crore (Rs 714.86 billion) saw a net increase of Rs 36 lakh crore in the market cap of BSE companies. This meant an addition of Rs 50.38 crore for every Rs 1 crore of inflows. Since 2001, every Rs 1 crore of inflows have coincided with market cap rise of at least nine times that amount.
Murali Krishnan, head (institutional broking), Karvy Stock Broking, sees a fall in mid- and small-cap firms' stocks as a possible reason for the slide. "Domestic institutions have been selling. Also, the fall in market cap could be because of the serious erosion in stocks outside the 100 top names," he says.
According to BSE data, domestic institutions have been net-sellers to the tune of Rs 33,762.21 crore (Rs 337.62 billion) in 2013 so far. In comparison, they had net-sold Rs 56,923.14-crore (Rs 569.23 billion) shares in 2012. Since January, BSE's mid- and small-cap indices have declined 14.80 per cent and 22.39 per cent, respectively, compared with the Sensex's 3.83 per cent fall.
Vikas Khemani, president and co-head (wholesale capital markets), Edelweiss Securities, says additional capital raising could have absorbed some of the inflows. "There has been a lot of fund raising by firms, as well as divestment, leading to absorption of capital," he said.
Companies, including public-sector ones, have raised Rs 23,178.41 crore (Rs 231.78 billion) from the equity market, year to date, according to Prime Database. The government has announced further divestment to raise Rs 55,214 crore (Rs 552.14 billion) in 2013-14. "The relationship of FII inflow and the equity market has broken down completely," Goldman Sachs said in a recent report.