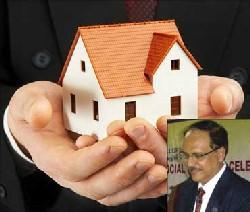 It's business as usual for LIC Housing Finance. From being in the news for all the wrong reasons, the mortgage lender is slowly getting its act together, courtesy its new CEO V K Sharma.

Ever since taking charge, Sharma has been busy travelling across the country. In his words, it has been a challenging as well as a satisfactory journey.

Challenging, because he had to reinstate the image of a scam-tainted company not only for its investors, but also its employees.

However, he is pleasantly surprised with the quick return to normalcy. He says the company is aiming to grow by 25 per cent in the next financial year, after going slow for two months.

It has been nearly three months since you took over the reins at LIC Housing. How has the journey been?

To be frank, I am really surprised with the speed at which things have come back to normalcy. I have been travelling across the country to verify how the company was functioning at the grass root level.

I was expecting it would be some time before we return to normal business, but what has touched me the most is the dedication and commitment displayed by the employees.

After a virtual moratorium of one month (December), we are steady now. We hope to maintain steady growth in the current quarter and hope to build on it in the next financial year as well.

To start with, what have been the major challenges?

The major challenges were restoring confidence among the employees and stakeholders and coming out with the third quarter accounts.

During December, we had stopped extending loans to the real estate sector. We wanted to see whether we could sustain growth without project finance. There were no changes in our organisational set up as we thought it necessary to facilitate proper investigation.

We asked the Central Bureau of Investigation, the National Housing Bank, external auditors and rating agencies to investigate and they found nothing wrong with our functioning.

LIC Housing has grown very fast, at around 40 per cent, over the last two years. Going forward, how do you plan to pace the growth?

Right now, we are in the process of building capabilities to sustain the high growth. Our disbursements grew by over 30 per cent in January. Thus, growth is not an issue.

The main point is managing this growth so as to make it sustainable. Our aim is to grow by at least 25 per cent on-year during 2011-12.

With the interest rates going up, how do you see the margins? What are your borrowing plans to meet this growth? Also, what is the status of the proposed venture capital fund?

Well, there is an upward pressure in interest rates, but we are confident of maintaining a net interest margin of 2.8-3 per cent for 2010-11.

During the next financial year, we will be raising Rs 22,000-25,000 crore (Rs 220-250 billion) as debt to finance this growth.

Regarding the venture capital fund, we are in talks with investors. It will be launched by the end of this financial year.

The total corpus will be around Rs 500-750 crore (Rs 5-7 billion), which will be invested as equity in real estate.

You have sought clarification from NHB regarding the provisioning norms with respect to the special home loan schemes...

Our special home loan scheme starts at 9.75 per cent (interest rate) and the rate is fixed for five years. As per our internal calculations, at this rate, it is sustainable for the five-year period.

Secondly, almost all our customers are salaried individuals commanding a steady income flow.

Hence, while approving loans, we can easily take into account their future income flows and the ability to repay. The loans were priced in accordance with our cost of fund and the borrowers' future income flow.

We have requested NHB on these grounds and are awaiting feedback. However, in accordance with its directive, we have fully provided for these loans in our third quarter results.