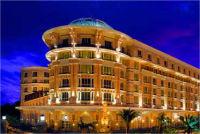 Hospitality chain Hotel Leelaventure on Monday said it is working on a diversification plan to set up a chain of three-star hotels at pilgrimage locations across India under 'Leela Gardens' brand.
The initiative is being led by Samyukta Nair, the grand daughter of 90-year-old founder of the Hotel Leelaventure C P Krishnan Nair.
The new plan would mark the company's entry into the mid-market hotel segment with the first hotel expected to be launched by 2013.
"There is a plan to set up 3-Star hotels in pilgrimage centres under the 'Leela Garden' brand by 2013. There would be around 30-40 such hotels," Nair told reporters in New Delhi.
Pilgrimage destinations such as Banaras, Mysore, Haridwar, Rishikesh and Nalanda that attract a large number of visitors for religious purposes, will be the target destinations for the company.
"To start with, there could be 10 such hotels opened simultaneously but nothing has been finalised yet," she said, adding, the mid-segment hotels could be operated by a group company.
Commenting on the diversification plans, the company's Vice-Chairman and Managing Director Vivek Nair said: "We have been getting a lot of offers to manage and can certainly look at foraying into the mid-segment."
The
company will primarily look at management contracts to expand into the segment instead of setting up own properties.
"Management contracts are what we would look at as there will be no investment required from our end to set up properties," he added.
In the luxury segment, the company today announced official launch of a new hotel in New Delhi and said it has plans to open new properties in Agra, Jaipur, Hyderabad and Lake Ashtamudi in Kerala going ahead.
Currently, the company operates seven luxury hotel properties in Mumbai, Bangalore, Udaipur, Goa, Kovalam (Kerala), New Delhi and Gurgaon.
Vivek Nair said the group has a total of 1,200 rooms currently and with new properties coming in, another 580 would be added.
All the hotels are owned and managed by the company except the one in Gurgaon, which is under a management contract.
It also has plans to upgrade its properties in Goa and Kerala.