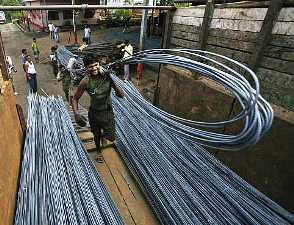 For many Indian chief executive officers planning to start new units, the only problems aren't land acquisition, environment clearances and fund raising.

Getting labour at plant sites is fast becoming extremely difficult, as the National Rural Employment Guarantee Scheme is creating a labour shortage, they say.

Take the Aditya Birla Group's UltraTech Cement, planning to spend Rs 12,000 crore in expanding its capacity.

"We are facing an acute shortage of labour, which is impacting our expansion," says Adesh Gupta, chief financial officer of Grasim, the holding company of UltraTech.

"As we go forward, we have decided to use a lot of machines in our plants to replace labour."

NREGS, launched by the central government in 2005, offers 100 days of guaranteed work in a year to each rural household.

The scheme is a hit among unskilled workers, as they needn't migrate to other areas in search of work.

Apart from NREGS, the other government welfare schemes have also resulted in more rural incomes, encouraging labour to stay at home.

"There is a growing shortage of labour," said Rahul Mehta, who has 30-odd years of experience in the apparel business and is president of the Clothing Manufacturers Association of India, with nearly 2,000 manufacturer members and 15,000 members which are retailers.

"The surplus labour situation that India was known for is fast-changing with schemes such as NREGS.

"Also, our outdated labour laws result in problems in employing contract labour."

This shortage comes at a time when corporate India plans to restart work on new projects and expansion, after a prolonged slowdown.

Many big companies -- Reliance Industries, Steel Authority of India and Oil & Natural Gas Corporation -- plan to spend hundreds of crores to expand capacity.

With interest rates cooling, oil prices falling and European and American markets recovering, many companies feel this is the right time to start work on raising capacity to prepare for the upturn expected in the second half of the current financial year.

However, say analysts, with labour shortages getting worse, many which plan new units, such as Maruti or Honda, will expedite schemes to mechanise their plants on the lines of US and European companies.

Apart from NREGS, the Union and state governments are running several programmes in rural India to address critical issues on education, health and sanitation.

Apart from NREGS, the Sarva Shiksha Abhiyan and spending on the National Rural Health Mission add to rural incomes, as they expand jobs for teachers and support services.

A little more than half of welfare spending is on education and of this, about a fifth is on teacher salaries.

In 2011-12, about 4.2 million teachers were hired by the government to support its programmes. Spending by state and central governments on education have risen quite sharply after FY06.

Despite a minor slowdown in FY12, government spending now totals Rs 2.7 lakh crore (Rs 2.7 trillion), almost six times the expenditure on job generation programmes.

"All these programmes have resulted in labour staying at home (villages) and not working in harsh working conditions," says a CEO of an infrastructure company.

While total spending on other programmes like rural electrification is not as large as on welfare schemes, its impact on productivity has been dramatic. Analysts believe this, combined with the jump in telecom penetration, is the prime reason for the jump in rural wages in recent years.

And, this expenditure is to pick up in coming years.

"All this is good news for the country but for Indian companies, this (labour) is an unexpected problem in hand and the only way forward is to spend heavily on machines to replace them," says a CEO.
Image: Labourers load iron rods onto a vehicle at a steel factory on the outskirts of Agartala. Photo is for representation purpose only. | Photograph: Jayanta Dey/Reuters