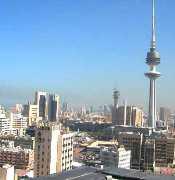 Kuwait has decided to set a minimum wage of 60 Kuwait dinars (Rs 9,191.53) for workers in the private sector, the country's social affairs and labour minister has said.
"The decision states that no employee of the private sector would be hired below the KD 60 wage," a ministry statement said.
According to the social affair and labour minister, Mohammad Al-Afasi, the decision reflected the continuous cooperation between the legislative and executive authorities. The new labour law grants workers in the private sector additional benefits compared to the previous law.
The statement affirmed that the ministerial decision also applies to expatriate workers, a large number of whom are Indians.
The decision will also cover firms affiliated with government contracts that have been floated through tenders from the date of publishing the decision in the Kuwaiti gazette. The decision, the statement added, does not apply to ongoing government contracts to prevent any encroachment on the rights and obligations of both sides involved in these contracts.
The new benefits are meant to attract Kuwaitis to join the private sector.