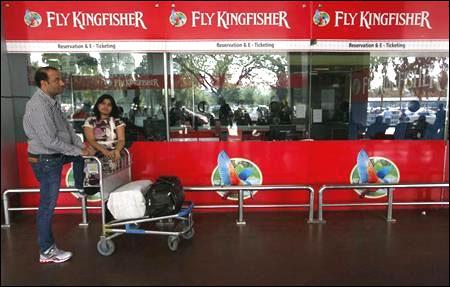 Kingfisher Airlines is accepting bookings despite instructions from the Directorate General of Civil Aviation to suspend them.
The airline management has extended the partial lockout till October 12 and is accepting bookings on its website beyond the date. 
The airline has however put out a notice on its website that all its flights are subject to regulatory approval.
Last Friday the DGCA  Arun Mishra issued a show cause notice to the airline why its operating permit should not be suspended in the wake of employee protests over unpaid salaries. 

Mishra has directed the airline not to accept fresh bookings till the regulator reviews the airline's operations plan. "They (Kingfisher) has to satisfy us with operations plan,'' Mishra said.
However despite the directive the airline continues to accept the bookings. Tickets were available on Mumbai-Delhi route from October 13 while search for the previous date said no flight found. An email query to Kingfisher spokesperson did not elicit response.

Travel portals including Yatra.com have already stopped bookings of the airline. An executive from Yatra.com said the portal suspended the bookings after the airline extended the lockout till 12th. "Customer confidence is low as there is lot of uncertainty about the airline,'' he said.

Before it decided to suspend operations Kingfisher was operating only nine of its 40-odd planes linking metros like Mumbai, Delhi and Bangalore and few tier-II towns with turboprops.

It has a market share of 3.2 percent which is the lowest amongst all the domestic airlines.