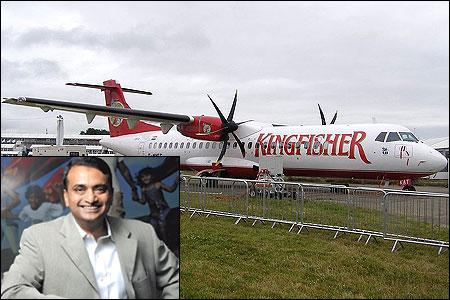 Upon receiving
suspension
order from the Directorate General of Civil Aviation on Saturday, Aggarwal wrote to employees seeking their backing.
Kingfisher Airlines chief executive officer Sanjay Aggarwal will meet airline employees on Monday as he tries to regain their  support and end the ongoing strike.
Upon receiving suspension order from the Directorate General of Civil Aviation on Saturday, Aggarwal wrote to employees seeking their backing.

"This is not a cancellation but a temporary suspension which is valid only till such time that we submit a concrete and reliable revival plan to the satisfaction of DGCA,'' he said.

"We sincerely hope that the meeting next week with engineering and pilot representatives is conclusive, following which we can present our resumption plan to DGCA. It is our endeavor to re-start operations,'' Aggarwal wrote in his letter.

The airline has been grounded since beginning of October and its permit was suspended by the DGCA as it failed to submit a credible revival plan.

"There has been a lack of communication and mistrust between the management and employees. The employees are likely to press for some sort of an agreement which will legally bind the management on pending salary payments. Even we realise that the management can't pay seven months backlog at once and popular sentiment is that they give concrete assurance of paying half the dues and pay salary for one or two months before we resume work,'' said a Kingfisher engineer.

DGCA a few days ago had also decided not has not allotted any slots to KFA in the winter schedule which starts from November 1st and goes on till April 30th. The airline has suspended all its forward bookings in wake of the DGCA order. 

"KFA's ability to bounce back from this situation appears challenging. It means deep distress for its employees, creditors and lenders. Some employees may get absorbed by LCCs like Indigo, Spicejet and GoAir who have increased flights in the winter season. Lenders are the worst hit since they may have to take a significant write-down of the loans that have gone bad. Creditors like oil companies, airport companies, service providers and employees may also have to forego their dues, said Amber Dubey, partner and head-aviation at KPMG.

Explaining the difference between cancellation and suspension Ajay Prasad former civil aviation secretary said: "In contrast to suspension, cancellation, it is more definitive in nature and the airline would have to reapply for a permit and start all over again," 

The re application of permit would have meant that it would have to sign fresh aircraft lease agreements even for the planes in its fleet. The whole re-application process would have taken around 6 months.

Sources in DGCA say that the entire process of KFA license restoration may take weeks.

"In their concrete revival plan, apart from paying employee salaries Kingfisher will have to demonstrate to the DGCA it has sufficient manpower and aircraft available for its operations. The airline will have to submit details related to maintenance schedule, spares, engines and aircraft lease," a DGCA official said.