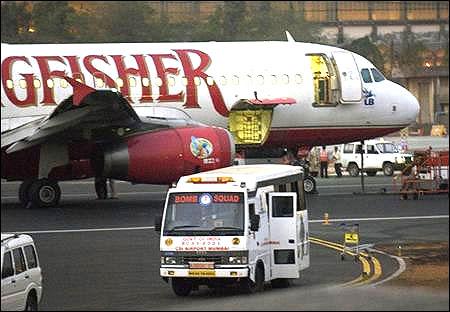 Having failed to receive their May salary as assured by the Kingfisher management, the airline pilots have now threatened to approach DGCA if they did not meet the commitment by today even as the regulator maintained that the issue is out of its purview.
"We have written to the airline's chief executive that if our salaries are not paid by today we will approach the Director General Civil Aviation to intervene in the issue," airline sources said.
The airline has not paid salary to most of its 4,000 employees since May. The pilots' threat comes after the management, which had assured the employees that their three months' salaries, out of the seven months, will be paid in tranches by Diwali.
The airline, which is grounded since October 1 after its pilots and engineers went on strike demanding payment of dues, has temporarily lost its flying license.
However, the airline managed to convince the employees to end their agitation by assuring them that their three-month dues (March to May) will be remitted in three instalments by Diwali.
Subsequently, the agitation was called off on October 24. Meanwhile, a highly-placed DGCA official told PTI, "Payment of salary is an internal issue which the management and employees will have to sort out among themselves. Our concern is safety and we have already temporarily suspended the airline's flying license on this count."
The official, however, said that these issues will definitely be taken into consideration when the airline submits its revival plan.
"The employees should approach the appropriate authorities such as labour court or any other such institution to get the issue resolved," he added.
The airline has been told by the aviation regulator that its license will be restored only when it submits a comprehensive revival plan and after taking views of all the stakeholders. 

Kingfisher has been grounded since October 1 and on 19 of the same month, the regulator suspended its flying licence.
The airline has a bank credit of Rs 7,000 crore (Rs 70 billion) and the unpaid interest since January this year thereon, apart from over Rs 10,000 crore (Rs 100 billion) of accumulated losses since the launch in May 2005.
The 17 lenders, led by State Bank, had set a November 30 deadline to bring in additional capital infusion to the tune of at least Rs 5,000 crore as a precondition to consider the airline's request for more working capital loan.
However, as of now there is no word from the company about the bankers' demand.