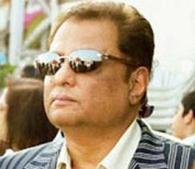 Russian businessman Suleiman Kerimov did come in contact with Pune businessman Hasan Ali Khan seven years ago, but has had "no dealings" with him since.
Eliot Lauer, a New York lawyer, who represents Suleiman Kerimov said this in an email response to a report published in Business Standard on Wednesday.


"The individual, Hasan Ali Khan, presented himself as a prominent Indian businessman with an interest to invest in projects in Russia. Our limited experience with him, for more than seven years ago, left us with an unpaid claim and the awareness that he was not the person he had represented to be," he said.

Lauer, who is a partner at the law firm of Curtis, Mallet-Prevost, Colt & Mosle LLP said, "We categorically deny the inflammatory allegations in the articles published today. We deny ever having strong ties with Hasan Ali Khan. Indeed, we have had no dealings with him since the introductory period."


The disclosure is likely to add a new twist to the Enforcement Directorate's investigation into Hasan Ali's alleged business transactions abroad.


On the basis of information gathered from Ali and his alleged associate Kashinath Tapuriah, the ED is now looking at the possibility of the duo's linkages with international arms dealer Adnan Khashoggi and others.


ED officials point out that the new direction of investigation was based on the premise that Khashoggi and Kerimov utilised the expertise and network of Khan and Tapuria to divert funds in the global market. Lauer denies this possibility, at least, in the last seven years.


The ED is currently looking at Ali's bank accounts, transactions, correspondence, businesses and associates. It is also collecting information on Ali's trips to different countries and his business dealings. Ali, India's biggest tax defaulter is in the ED's custody. The Supreme Court cancelled his bail last month.


The tax demand raised on Hasan Ali alone is Rs 50,329 crore (Rs 503.29 billion).

The remaining amount includes Rs 49 crore (Rs 490 million) on Ali's wife Rheema Hasan Ali Khan, Rs 591 crore (Rs 5.91 billion) on Kashinath Tapuriah, Rs 20,540 crore (Rs 205.40 billion) on Chandrika Tapuriah and Rs 336 crore (Rs 3.36 billion) on M/s R M Investment & Trading Co Pvt Ltd.