The freebies are now over, but Jio will need to notch up subscriber numbers and margins to prove its sceptics wrong, says Surajeet Das Gupta.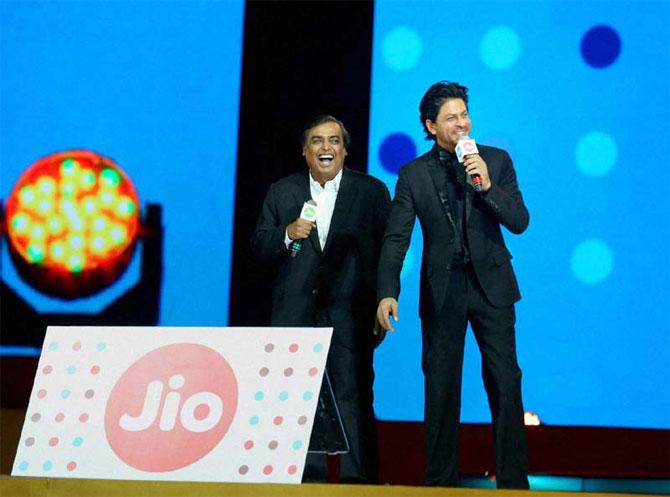 The past year has been the best and worst of times for the telecom industry.
Unlimited free voice calls and an explosion of data at rock bottom prices were accompanied by older telecom operators seeing their profits crash since the launch of Reliance Jio's 4G services, which complete one year next Tuesday.
India has never before seen such an explosion in data use as Jio upended the strategy of incumbent telecom operators of keeping prices high.
It dropped data prices by over 95 per cent and the average use of data per subscriber shot up five-fold to 1 gigabyte (GB) in March.
The total data use in the country has risen from 200 million GB a month before Jio to 1.5 billion GB a month now, making India the world's largest data user, overtaking the United States (710 million GB) and China (630 million GB).
And this surge has come from only 282 million customers; China's lower usage is spread across 800 million customers.
Jio has grabbed 43 per cent of the mobile broadband subscriber market, more than the three incumbent telecom operators -- Bharti Airtel, Vodafone and Idea Cellular -- put together.
Its customers use over 1.2 billion GB of data a month, 80 per cent of all the data consumed in the country.
A company official said, "India has become the biggest consumer of mobile data in the world ahead of the US and China."
"We have done it with only 283 million data customers while China has 800 million," the official added, "showing the huge explosion of data usage in the past year, and there's potential of much more in the near future."
The Jio data costs around Rs 11 for 1GB a day.
Jio also used technology to offer free voice calls for the first time in India.
The Voice over Long-Term Evolution (VoLTE) technology takes only Rs 0.1 paise to produce a call minute.
Competing telecom companies that were initially sceptical about VoLTE voice quality are following suit.
The competition has also traditionally shied away from offering their customers bundled handsets.
Realising potential customers did not have many choices in expensive 4G LTE handsets, Jio launched its own range of cheap phones, LYF.
With international handset makers joining the party, Jio has now taken a step back.
But with 4G feature phones -- priced at Rs 1,500 to be returned in three years -- Jio is going a step further.
Having 125 million customers, Jio now wants to expand its consumer base to the over 500 million feature phone users in the country.
These consumers will have to buy new 4G phones and Jio is offering handsets that are, in effect, free.
The plan may, however, not be a runaway hit considering the subsidy on the handsets Jio will pay out and the high monthly commitment by subscribers.
A consequence of Jio's entry is a shakedown in the telecom industry. The new operator has been grabbing subscribers from smaller players whose survival is now at stake.
This could speed up if Jio's plan of acquiring an additional 150 million to 200 million customers through 4G feature phones plays out.
Analysts see five players in the telecom industry eventually -- Jio, Idea-Vodafone, Bharti and BSNL -- with the top three taking nearly 90 per cent of the market.
Reliance Communications, Aircel and MTS are moving fast on consolidation and could eventually merge with Jio.
Tata Teleservices, after its aborted talks with Bharti, will find it difficult to survive as an independent player with less than 4 per cent market share.
Clearly, Jio is leveraging the slow adoption of 4G by its rivals, except Bharti.
Rajan Mathews, director-general of the Cellular Operators Association of India (COAI), says only 35 per cent of the 1.6 million base transceiver station cell towers in use are 4G enabled and it will take around three years to reach 90 per cent.
In contrast, all cell towers used by Jio are on 4G.
Jio's pricing has naturally hurt the incumbent operators, which are groaning under a $65 billion debt pile that includes payments for spectrum.
Average revenue per user, according to the Telecom Regulatory Authority of India, has declined 32 per cent between the September and March quarters.
The COAI reckons revenues of the major telecom companies fell 15 per cent, year on year, in the June quarter and profits plunged 160 per cent.
This apart, a schism has opened up in the industry over inter-connect charges. Since 80 per cent of calls from Jio's network terminate on theirs, the older telecom companies say they are virtually subsidising Jio's calls.
While Jio pays 14 paise for call termination -- and it is pushing Trai to eliminate the charge altogether -- their costs are more than double.
If interconnect charges are scrapped, the industry says it will lose over Rs 6,000 crore.
Jio, on its part, claims the cost for termination is less than 1 paise and incumbent operators are punishing customers for their inefficiency.
With an investment of over Rs 200,000 crore, the question on everyone's mind is when will Jio break even?
Its competitors allege it has been given preferential treatment by the regulator, which allowed it to offer services free for six months.
The freebies are now over, but Jio will need to notch up subscriber numbers and margins to prove its sceptics wrong.
IMAGE: Reliance Chairman Mukesh Ambani with Jio Brand Ambassador Shah Rukh Khan. Photograph: PTI Photo