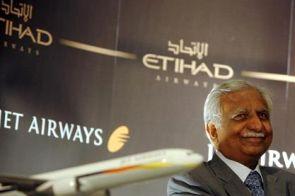 The Central Vigilance Commission is likely to close complaints of alleged irregularities in the Rs 2,058-crore (Rs 20.58 billion) deal between Jet Airways and Abu Dhabi's Etihad Airways lodged by a Bharatiya Janata Party member of the Parliament.

The Civil Aviation Ministry has submitted replies to the CVC on a series of allegations raised by Nishikant Dubey against the deal and clarified all concerns raised by him, official sources said.

Based on the ministry's reply, the complaints of alleged irregularities may be closed and no further investigation needs to be carried out, the sources said.

Dubey had written several letters to Prime Minister Manmohan Singh, CBI, CVC and the Ministry alleging wrongdoings in the deal and demanded a high-level probe in the matter, they said.

He had alleged that Jet Airways in collusion with senior officials caused a revenue loss of Rs 500 crore (Rs 5 billion)
to the national exchequer among other issues.
However, Dubey told PTI, "I have unofficially seen the reply given by Civil Aviation Ministry. They support the concerns raised by me."
Etihad had on April 24 announced its decision to purchase 24 per cent stake in Jet for Rs 2,058 crore.
The Foreign Investment Promotion Board on July 29 cleared the deal with certain riders.
The conditions included Jet seeking government approval before changing the shareholders agreement with Etihad and any arbitration to take place under Indian law, not English law as proposed earlier.
Jet chairman Naresh Goyal owns a 51 per cent stake in the airline.
Meanwhile, Jet Airways and Etihad have submitted revised documents to the government seeking to allay the FIPB's concerns over control of their proposed venture, saying the commercial cooperation agreement would not override the powers vested with the company's board.