India and Japan on Monday signed seven agreements under which the East Asian economic giant would provide loans worth a total of Rs 8,632 crore (Rs 86.32 billion) for various projects, including the Bangalore Metro Rail Project.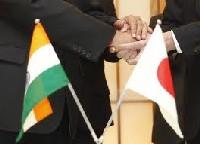 The loans are to be provided under the Official Development Assistance (ODA) programme of the Japan International Cooperation Agency (JICA), the Finance Ministry said in a statement.

"The Notes worth Rs 8,632 crore (Rs 86.32 billion) were exchanged today between Japan and India," it said.

The agreements in this regard were signed here by Department of Economic Affairs Joint Secretary Prabodh Saxena and Ambassador of Japan to India Akitaka Saiki.

They cover various sectors including power, financial services, energy, urban transport, road safety and forestry.

While a loan of Rs 1,031.74 crore (Rs 10.31 billion) would be extended for the Andhra Pradesh High Voltage Distribution System Project, another 1,024.36 crore (Rs 10.24 billion)
would go for the Madhya Pradesh Transmission System Modernization Project.
JICA has also alloted Rs 1,665 crore (Rs 16.65 billion) each for the second phase of the Micro, Small and Medium Enterprises Energy Saving Project and the New and Renewable Energy Development Project.
In a segment of urban transport, the second phase of the Bangalore Metro Rail Project would receive Rs 1,100.67 crore (Rs 11 billion).
A loan of Rs 1,271.11 crore (Rs 12.71 billion) has been alloted to Bihar National Highway Improvement Project and Rs 874.06 crore (Rs 8.74 billion) to the second phase of the Rajasthan Forestry and Biodiversity Project.
"India continues to be the highest recipient of ODA from Japan," the statement added.