A lounge in place of the usual 'India Adda' at the Davos summit will showcase the 'Make in India' programme.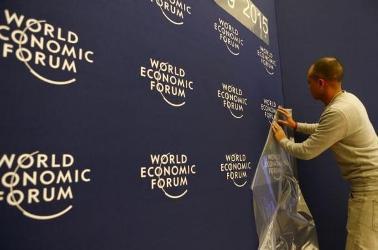 The government will pitch the 'Make in India' programme to participants at the four-day World Economic Forum summit in Davos from Wednesday.
As many as 2,500 political and business leaders will deliberate on this year's theme, "The New Global Context", at one of Switzerland's biggest ski resorts. Finance Minister Arun Jaitley will lead India's delegation.
Among policymakers, Power Minister Piyush Goyal, Maharashtra Chief Minister Devendra Fadnavis, Andhra Pradesh Chief Minister Chandrababu Naidu, Department of Industrial Policy & Promotion Secretary Amitabh Kant and Chief Economic Advisor Arvind Subramanian would make a case for manufacturing in India, officials said.
A lounge in place of the usual 'India Adda' at the Davos summit will showcase the 'Make in India' programme.
The lounge has the 'Make in India' lion logo in various colours representing various sectors under the programme.
Hoardings at the lounge promote the programme with slogans such as 'Whatever you want to make, make in India' and 'From satellites to submarines, from pharma to biotech'.
Manufacturing in India could be cheaper as labour costs rise in China.
The Indian side will cite recent ordinances such as the one on land acquisition to drive home the point that it would become easier to do business in India.
The Confederation of Indian Industry will organise a round table on investment. Besides, there will be events such as the one on Andhra Pradesh to showcase regional investment destinations.
DIPP is already marketing the programme in Washington.
"Met a number of CEOs from leading American companies in Washington today [Tuesday].
"Immense interest and enthusiasm to participate in the India story," tweeted Kant.
He said on the microblogging site Twitter Honeywell, United Technology, GE and Ford were the best brand ambassadors of the India story in the US.
"All of them have success stories 2 tell." Kant tweeted Ford executives told him their $1-billion integrated factory in Sanand, Gujarat, was built in record time.
Kant will head to Davos from Washington.
However, foreign business leaders might cite World Bank rankings, where India is 142 among 189 countries on the ease of doing business.
India aims to rise to 50 in two years.
The Centre has of late taken initiatives to improve the environment for doing business.
It has simplified the application form for industrial licences and shifted the process online to the eBiz website, exempting a large number of defence equipment from compulsory licensing, and extending the initial validity period of industrial licences from two years to three, so that there is enough time to obtain clearances.
Investors will be appraised of these changes, besides being assured of stability in the tax regime, which was disturbed by retrospective amendments to the Income Tax Act.
Apart from selling the 'Make in India' programme to world leaders, Indian industrialists will meet the rich and powerful from across the world. From the Indian side, Tata group chief Cyrus Mistry, Reliance Industries' Mukesh Ambani, ICICI Bank's Chanda Kochhar, Jet Airways' Naresh Goyal, Tata Consultancy Services' N Chandrasekaran and State Bank of India's Arundhati Bhattacharya will be attending the Davos summit.
Bharat Forge's Baba Kalyani, Essar Group's Shashi and Ravi Ruia, and Infosys' Vishal Sikka as also eminent names such as Azim Premji, Sunil Mittal, Uday Kotak, Rahul Bajaj, Adi Godrej, Naveen Jindal and Sajjan Jindal will be present.
As the euro zone struggles to revive amid a crisis in Greece and other countries trying to revive growth, Germany's Chancellor Angela Merkel, France's President Francois Hollande and China's Prime Minister Li Keqiang will deliberate on the new global scenario.
Image: A worker sets up logos of the World Economic Forum at the congress center in the Swiss mountain resort of Davos January 20, 2015. Photograph: Ruben Sprich/Reuters