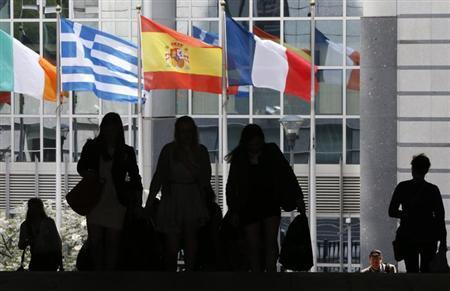 Finance Minister Arun Jaitley, along with other senior ministers, on Tuesday pitched India growth story before 21 large global investors with $11 trillion of investible assets -- including sovereign wealth funds of many countries -- and invited them to invest in the country.
Jaitley and other ministers are believed to have outlined the government's economic reform roadmap and investment opportunities available in the country before these investors during a day-long India Investor Summit, organised by the world's largest asset manager BlackRock on Tuesday.
While Prime Minister Narendra Modi hosted a dinner for these investors later in the evening, they were also addressed earlier in the day by Coal and Power Minister Piyush Goyal, Railways Minister Suresh Prabhu and Commerce and Industry Minister Nirmala Sitharaman.
RBI Governor Raghuram Rajan, Sebi Chairman U K Sinha, as also top government officials like DIPP Secretary Amitabh Kant, Chief Economic Advisor Arvind Subramanian and Finance Secretary Rajiv Mehrishi also addressed the investors.
The 21 top global investors who participated in the Summit included asset managers, insurers, pension funds, who together manage investible assets worth over 11 trillion.
These included Abu Dhabi Investment Authority ( 770 billion), Australian Government Future Fund ( 95 billion), Temasek ( 175 billion), Canadian Pension Plan Investment Board ( 205 billion), Hong Kong Monetary Authority ( 400 billion) and Saudi Arabian Monetary Agency ( 755 billion).
The main objective of the summit was to deliberate on economic reform agenda being pursued by the government as it would place Indian economy on a sustainable high-growth path and create millions of jobs, sources said.
Goyal laid out investment opportunities in the just opened coal mining as well as power sector while Oil Minister Dharmendra Pradhan pitched for investments in upcoming refineries and petrochemical plants besides oil and gas exploration.
Prabhu outlined the opportunities his sector offers after the government recently allowed foreign investment, while Kant highlighted the foreign investment policies in various sectors.
In the last session, Rajan and Sinha provided insights into financial market regulations.
Sources said that the investors were given details about the projects where wealth funds could make investments, as also about the contact information of key officials for such projects.
The key topics discussed in the summit included India's vision of growth and key area of reform in sectors such as energy, railways, transport, banking and other financial segments.
Other ministers who addressed the gathering included Commerce and Industry Minister Nirmala Sitharaman.
Secretaries of all these ministries too participated in the summit.