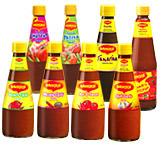 Nearly two decades after it first tickled the funny bone with the 'it's different' punchline for Maggi sauces, FMCG major Nestle is changing the slogan for its ketchup brand to 'make a difference', to stay in sync with the new generation of customers.
As Maggi tomato ketchup turns 25 this year in India, Nestle is adopting a more interactive approach with customers through its new campaign, Hassi Khushi and Maggi Sauce, which will see the ketchup range sport a new tagline, 'make a difference', starting from next month.
"As the brand grows, we keep on looking for ideas to communicate with consumers. We are taking our campaign to the next level. This time we thought we should let the consumers do the talking," Nestle India general manager (food division) Shivani Hegde told PTI.
Through the new campaign, customers can share jokes with the firm, which could be used on the packaging of products.
They can also call up to listen to jokes by Maggi ketchup brand ambassador Javed Jaffrey.
Nestle has also made changes in the packaging of its products to feature pictures of consumers whom they have interacted with.
The company also plans to launch a small size, 90 gram product pack alongside the campaign.
"We are utilising the brand equity that we have built over the years. With this campaign, we will effectively use all digital medium, including phones and SMSes. We will ask consumers to share jokes to have a chance to feature on the packages," Hegde said.
The campaign is in line with Maggi noodles' interactive campaign, 'me and meri Maggi', which was launched last year to celebrate 25 years of being in India.
The Maggi brand, which clocked a turnover of about Rs 1,300 crore (Rs 13 billion) last year, is also planning to launch a smaller pack of Maggi noodles priced at Rs 4 to maintain its volume growth.
"We have done a soft launch of our small pack of Maggi magic masala, which is more healthier. We have fortified (it) with more iron content.
"This will basically target those regions and people who can not afford to have healthy food," she said.