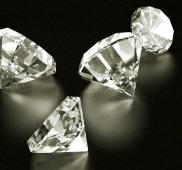 Diamonds are a women's best friend.

No wonder, they are the most purchased product online, and  the majority of the purchases being done by men.

And niche portals like Jewelsnext.com, Caratlane.com and Suratdiamonds.com are making the best use of it, apart from the traditional e-commerce players.

At Jewelsnext.com, a portal dealing with jewellery, 18 pieces of diamond jewellery are sold every day.

More than 50 per cent of their sales comes from diamonds.

Their average ticket size ranges between Rs 20,000 to Rs 30,000.

Gaurav Issar, co-founder and CEO, Jewelsnext.com says, "The advantage that we have is that we are an online marketplace, with more than 50 brands on board. Moreover, we also offer customised jewellery and have a supply chain in place."

The portal presently has more than 10,000 products and would add another 50,000 products in the next six months.

Jewelsnext.com has an equal mix of NRI and Indian customers.

Once a piece of jewellery is selected, there are a host of payment options, including cash on delivery, credit card and cheque available.

The jewellery is delivered within seven working days.

According to a recent report by eBay in December 2011, solitaire pendants became the most shopped product on the website.

Also, the number of people looking for jewellery and luxury goods on the internet rose by 36 per cent in December 2011 over the previous year.
Abhimanyu Lal, head of category, eBay India, "A piece of jewellery sells every four  minutes on eBay India.
Click Here For Rediff Realtime News!
"The main attribute to this growth is the Certification of the Diamonds by trusted industry bodies is provided to the customers.

"Hence, the consumer is not sceptical about purchasing fine jewellery online. More so, as Indian fashion is going global, a demand for Indian designs is increasing."

eBay India has recently launched its Diamond Ring Configurator, which enables buyers to choose their own diamonds, settings suiting their budgets to create custom-made rings.

All sellers on eBay have logistic partners and insure the fine jewellery that is being shipped to the customers.

Furthermore, PaisaPay, eBay's secure payment gateway, releases payment to the seller only once the buyer confirms receipt of the item.

At Suratdiamonds.com, they have seen a double digit growth year on year.

Though Rajiv Mehta, MD of the company, believes that it is a difficult business to manage online, his portal has a million visitors per month and deals mostly in five figure amount jewellery.

They have online payment facilities, as COD is termed risky by Mehta. Customisation of jewellery is also available on the portal.

Caratlane.com is yet another player in this space.

This portal has gone a way ahead and ensured the shipments, so that the onus of proper delivery of the product is on the company.

With 1,000 transactions per month, they also witnessed over 100 per cent growth year on year.

They have two product categories-solitaires which begin from Rs 1 lakh and studded jewellery which have an average price of Rs 15,000.

The portal has predominantly Indian customers, with majority being men.

Kalaivani Sadagopan, senior vice-president at Caratlane, says, "Solitaires are an added advantage of our site.

"Since we have done transactions even worth Rs 50 lakhs (Rs 5 million), I can say that our online payment mechanism is very safe. Moreover, we offer customised jewellery to meet individual needs."

The portal will also offer customised jewellery with personal messages for Valentine's Day.

Customers have also found it convenient to shop online for jewellery. Pranav Pacholee, a Caratlane customer from New Delhi says, "Buying jewellery is a tough job for me and I feel completely lost when I go to a shop. When I had to buy something for my wife, a friend recommended CaratLane.com.


"Though, quite reluctant to buy jewellery online, I was happy to find some good info on diamonds. The excel sheet with comparative information  on all my short-listed earrings was very informative and was able to find the right earrings for my wife."

Abhinav Bakshi, a customer with Jewelsnext.com, found it difficult to travel to various stores when he had to purchase a ring for his fiance. When he visited the Jewelsnext portal, he was able to browse through several options and find the perfect ring.

Portals also believe that this business is virtually safe as factors like cost advantage and multiple products on display make them distinct and attractive for potential customers.

"Jewellery is a category, which has found favour with the masses online.

"This is certainly not true for other categories of products. Jewellery is a tradition in India and I believe that interest for jewellery will never die in this country," concludes Issar.