To get three-year term as non-executive chairman from Feb; firm to create CEO's post; AGM to ratify Sanjiv Puri, Rajiv Tandon's appointment as directors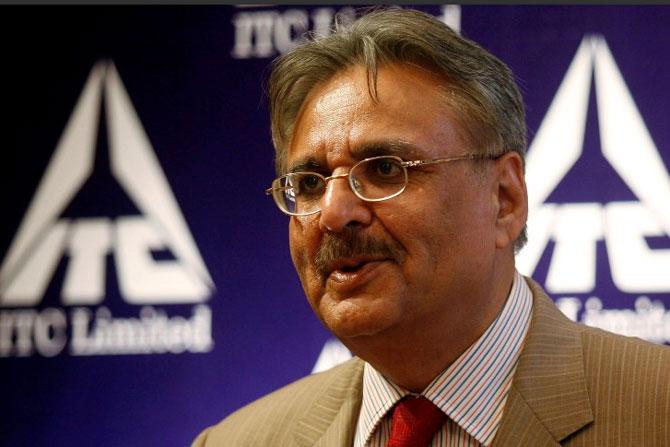 Putting all speculation to rest, ITC, on Tuesday, announced its longest-serving chairman, Yogesh Chander Deveshwar, will slip into a non-executive role from February 2017.
At the company's forthcoming annual general meeting (AGM), a resolution for shareholders' approval regarding the appointment of Deveshwar as a non-executive director, not liable for rotation and chairman of the company, for a period of three years with effect from February 5, 2017, will be placed. In 2011, the ITC board had cleared Deveshwar's extension, with effect from 2012, for a period of five years, which would end in 2017.
The company has mentioned, in its AGM notice, that the Nomination & Compensation Committee and the board had strongly urged Deveshwar to continue for a longer period in his present role.
"Mr Deveshwar, however, expressed his desire to shed the executive role, in accordance with the indication given by him at the 100th AGM in 2011, and put in place a youthful leadership at the helm in the longer term interest of the company.
At the request of the Nomination & Compensation Committee and the board, recognising the need for orderly transition in a company of ITC's size and complexity, Mr Deveshwar has, instead, agreed to provide guidance and mentorship to the new executive management, that is planned to be put in place, as non-executive chairman on expiry of his current term," read the explanatory statement.
How Yogi Deveshwar stubbed out competition

Diversification gambit
ITC diversified into branded food, personal care products, lifestyle retail under Y C Deveshwar, in a bid to reduce over-reliance on tobacco. It earns more than half its revenue from the non-cigarette business
Tax dispute
Restored ITC's reputation by settling tax disputes with the Centre
Leader in core area
Maintained leadership position in cigarette despite entry of global majors and an onslaught of a harsh tax regime
The move also means that for the first time, ITC would have a chairman in a non-executive capacity and the position for a CEO would be carved. In the course of its succession planning in the past few years, ITC has created other positions as well.
In 2014, Sanjiv Puri, 53, was made president of the fast-moving consumer goods (FMCG) business, a position carved for him that set off speculation he was being groomed for a bigger role. Finally, last November, he was elevated to the board.
Shareholders would ratify the appointment of Puri and Rajiv Tandon as whole-time directors at the AGM.
While Deveshwar's consolidated salary per month was at Rs 41 lakh, for others, it was Rs 8 lakh per month. The remuneration was with effective from April 1.
ITC set the ball rolling on succession planning in early 2010 when three new members, Kurush Grant, Nakul Anand and Pradeep Dhobale, were inducted into the board. The changes in the board were the first in a decade.
It was believed at that time any one of the three new executive directors would take over from Deveshwar. However, ITC announced the retirement of Dhobale and Grant last year. Whoever succeeds Deveshwar would have some big shoes to fill. From a tobacco company, Deveshwar has successfully transformed ITC to one of the leading FMCG players in the country.
When Deveshwar took over as executive chairman, the revenue of the company was less than Rs 5,200 crore (Rs 52 billion) and profit before tax was Rs 452 crore (Rs 4.52 billion). It has currently grown tenfold to Rs 51,582 crore (Rs 515.82 billion) and 33 times to Rs 14,958 crore (Rs 149.58 billion). Total shareholder returns have grown at a compounded annual rate of 23.3 per cent.
Photograph: Jayanta Shaw/Reuters