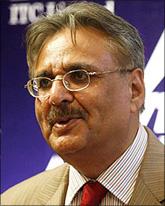 ITC's investment arm Russell Credit has raised its stake in Hotel Leelaventure to 7.37 per cent --an increase of 2.26 percentage points.
The promoters of Mumbai-based Leela group, meanwhile, said they were not interested in tying the knot with ITC as a strategic partner in the growing hotels business.
"We are not interested in any strategic partner as we already have relations with Kempenski. Our nine new hotels, which are coming up, are all funded. Also, the promoters have a 53 per cent stake in the company. So, we are very comfortable,"
Vivek Nair, vice chairman and managing director of Hotel Leelaventure and part of the promoter family told Business Standard.
He added that ITC, which had picked up equity in Leela initially at Rs 19-20 per share had made money as the stocks were trading at over Rs 50.
After courting EIH, which runs the Oberoi chain of hotels, for nine years, Russell Credit  increased its stake in Leela in the last two-three months.
ITC Ltd Chairman Y C Deveshwar, when contacted, said: "These operations are for capital gains as we understand the hotels business. There is nothing more to it."
The same period (October-December 2009), when ITC was increasing its stake in Leela, the promoters of the latter led by the Nair family also raised their stake to 52.67 per cent from 51.56 per cent. The price of each Hotel Leelaventure share then was fluctuating between Rs 37.8 and Rs 48.7.
Russell Credit has been accumulating shares in EIH since 2000.
It started buying into Hotel Leela only from late 2008.
Deveshwar said at the company's annual general meeting in July last year that ITC was not in favour of a hostile takeover of EIH or Hotel Leela, and even suggested joining hands for a joint ownership or marketing. In EIH, ITC's holding through Russell Credit is at the threshold limit of 14.98 per cent, a shade less than 15 per cent that would trigger a mandatory open offer according to the Securities and Exchange Board of India (Sebi) regulations.
In November 2009, in a slight change of stance, Deveshwar said they were rethinking their strategy in Oberoi. This meant making a counter offer or selling their stake. In both cases, Deveshwar made it clear the board would decide. He reiterated that he was not disposed towards a hostile takeover.
Industry observers said, the uncertainty of a partnership with EIH, which is clearly more comfortable in striking a deal with Analjit Singh rather than ITC, might have prompted the cigarette-to-hotels and consumer products company to look at Hotel Leelaventure.
In October 2009, news broke that Oberois had signed a non-disclosure pact for a deal, which would see the Oberoi family that owned a 43 per cent stake in ITC selling over 17 per cent to Singh for Rs 1,250 crore. Singh would have to make a mandatory open offer for an additional 20 per cent stake. He already holds a five per cent stake in the hospitality major. This means Singh's stake would be more than the Oberois' 26 per cent.
Leela Group, which started with its famous hotel in Mumbai near the airport  has expanded its presence in both the business and leisure segments with six hotels, with the beginning of Udaipur and Gurgaon properties earlier this year.
The other projects under implementation include one at Chanakyapuri in New Delhi, which will start before the Commonwealth Games and the property on Adyar beach in Chennai. This would take the room inventory of the company to almost 2,250 rooms. The company also owns plots in Agra, Hyderabad and Pune.
Image: ITC Ltd Chairman Y C Deveshwar. Photograph: Reuters