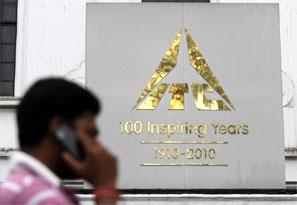 Indian tobacco firm ITC Ltd's move to shorten low-priced cigarettes by 5 millimetres helped fourth-quarter profit jump 18 per cent as customers snapped up smokes small enough to qualify for a lower government tax rate.
A pick-up in low-cost cigarette consumption helped India's largest cigarette maker boost margins even when overall sales volumes remained subdued as India raises tobacco taxes and slowing economic growth squeezes discretionary spending.
ITC isn't alone in the world's second-biggest market for tobacco consumption in spotting the potential to roll out 64 mm products taxed at less than half the rate of full-size 69 mm smokes - a category the government left out from its sharp excise hikes in the past two years.
Yet selling four out of every five cigarettes in India means ITC, nearly 25 per cent-owned by British American Tobacco, stands to gain most from a product category analysts expect will grow fast.
"Taxes are widening the price gap sharply between a normal-size smoke and a smaller one, pushing more consumers to trade down in the current environment where things are anyway tough," Arnab Mitra, vice-president of equity research for Credit Suisse in Mumbai, told Reuters.
Mitra expects the 64 mm segment to more than double to 15-20 percent of overall sales for the industry in the next two to three years. India, with a $6 billion cigarette market and more than 275 million users, ranks second globally in tobacco product consumption behind China's nearly 301 million smokers, according to a study published in medical journal Lancet.
A nearly 40 per cent duty hike on normal-sized cigarettes in the past two years - introduced by a cash-strapped government keen to boost tax revenue - along with a sharp drop in discretionary spending is gradually pushing up sales of the ITC 64 mm cigarettes.
India's fourth-biggest company by market value rolled out the shortened products under brands like Gold Flake and Navy Cut across the country last summer.
Taxing every stick
ITC, which generates about half its revenues from cigarettes, reported a fourth quarter net profit of Rs 22.78 billion ($389.37 million). Net sales rose 12 per cent even as volumes fell about 3 percentage points, according to three analysts who track the company. ITC does not disclose volume growth figures.
Its non-cigarette business grew 13 per cent. The company in recent years has been focusing very heavily on diversification - as India follows the rest of the world in adopting anti-smoking regulations - and is aggressively expanding its consumer products business.
India applies tax by single cigarette rather than pack, since 70 per cent of smokers in India buy their smokes in single units. The excise duty on a 64 mm cigarette is Rs 0.67 compared with Rs 1.47 on a 69 mm stick, according to data from India's Central Board of Excise and Customs.
Normal-sized cigarette taxes are likely to go up by around a further 12-15 per cent this year, according to analysts tracking the sector, and the smaller smokes have emerged as a boon for ITC at least in the near-term.
Morningstar senior research analyst Suruchi Jain expects operating margins to expand 200 basis points this year as low-tax smokes gain traction.
"It will take some time more for this segment to move the needle significantly on the volume growth side, but it is a product of the future and is definitely helping the company manage risk," Morningstar's Jain said.