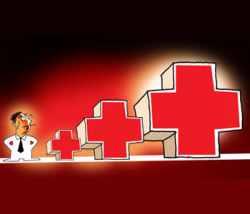 ITC to expand its Savlon brand across markets, while HUL is aggressively pushing its Lifebuoy handwash programme

Hindustan Unilever and ITC, two of the biggest consumer goods companies in India, are set to square off in health care, a category that is rapidly gaining traction.
Kolkata-based ITC, which acquired antiseptic liquid brand Savlon from Johnson & Johnson last year, is now launching what is possibly its biggest offensive against its Mumbai-based rival HUL.

Savlon Double Strength soap, launched in select geographies recently, will slowly but steadily be extended across markets, say officials in the know.
Additionally, ITC will use its cigarette distribution network to push both Savlon soap and antiseptic liquid into rural areas.
It will also launch what company executives describe as a 'modernised' handwash range -- basically a refurbished set of handwashing products under the Savlon brand, targeting mainly the urban markets.

The idea, say executives, is to present a strong counter to Lifebuoy.
Savlon will also compete with British consumer goods major RB's antiseptic Dettol, but ITC's focus will be on Lifebuoy, which has in the past few years strengthened its position in rural areas with its handwashing programme at schools and local communities.

ITC would specifically tap local doctors and chemists to push Savlon into rural households, adding heft to its distribution network which was earlier restricted to wholesalers and retailers, company executives said.

Sandeep Kaul, ITC's chief executive for its personal care product business, says, "Substantial investments are being made in development of insight into health care. We are excited with the prospects of Savlon and will continue to bring alive the brand in an engaging and relevant manner."

Industry sources say ITC's push into the doctor and chemist channels is linked with this group's familiarity with the Savlon antiseptic liquid.
While rival Dettol has traditionally enjoyed the lion's share (80-85 per cent according to industry estimates) of the Rs 200-crore (Rs 2-billion) antiseptic liquid market, Savlon is not an altogether unfamiliar name to doctors and chemists.
At 8-10 per cent market share, Savlon has held its own as number two, drawing ITC into buying it last year, say experts.
The Kolkata-based FMCG major is expected to leverage this latent equity of Savlon while tapping doctor and chemists in rural or even urban areas. In the soap segment, where HUL is the market leader, the game is expected to be tougher for ITC.
At Rs 10,000 crore (Rs 100 billion), the Indian branded soap market is one of the most saturated. It is growing at a rate of five-six per cent a year, according to market experts. HUL controls an estimated 45 per of this market.
It is followed by Godrej Consumer, at around 10-11 per cent, while RB (maker of Dettol) and Wipro (Santoor brand of soaps) trade positions at third and fourth positions, each with a share of eight-nine per cent.
For ITC, its Vivel brand of soaps in the beauty segment has struggled to go beyond two-three per cent in terms of market share, say experts, thanks to intense competition.
But the prospect of its soap doing well is higher in health care, given the potential of the market, say company executives.
At 30-35 per cent of the market, the health & hygiene segment of the branded soap market is growing at double-digit rates, ahead of the overall market.

The category has also got a boost with Prime Minister Narendra Modi's Swachh Bharat Mission, launched last year.
Every soap maker in the country has gained from the initiative and made inroads into the category to capitalise on growth. ITC is now making that big leap, say experts.

Kaul hints at this when he says, "We will consider all categories that can expand the brand's consumer reach and build it further."

Competitors in the health and hygiene soap segment include Lifebuoy, Dettol and Santoor.
While Lifebuoy's market share is estimated to be in around 15 per cent, Dettol and Santoor have an estimated share of eight-nine per cent each, according to market experts.

Analysts, however, warn of an impending trouble for ITC while taking on the established players, notably Lifebuoy.
"It is hard to challenge a product like Lifebuoy in the rural markets, but ITC has the ability to do it with the right pricing strategy," says Amnish Aggarwal, senior vice-president (research) at Mumbai-based brokerage Prabhudas Lilladher.

A NEW SOAP OPERA
ITC will extend Savlon Double Strength soap across markets
ITC to use its cigarette distribution network to push both Savlon soap and anti-septic liquid into rural areas
A 'modernised' handwash range is on the cards
ITC plans to tap local doctors and chemists to push Savlon into rural households